Compatibility
Compatibility between EIZO 29.8" Monitors and Macintosh equipped with Radeon HD2600XT
Applicable Monitors: FlexScan SX3031W, ColorEdge CG303W, CG301W
1. Description
When the start screen is displayed with a Dual link connection, the screen may appear unusual on a Macintosh equipped with a Radeon HD 2600XT. There are three patterns.
1. A blank screen.
2. The screen image is distorted.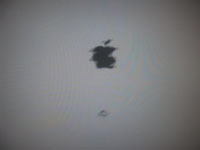 3. Half of the screen display is unusual.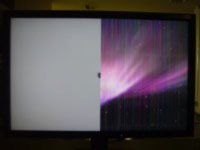 2. Cause
The video card's signal is not stable. As a result, the monitor cannot recognize it normally.
3. Measures
FlexScan SX3031W: There is no countermeasure.
ColorEdge CG303W, CG301W: The setting of signal is set as "Single Link".
The image display following the login screen is normal on both the models.
4. Temporary Measure
Change the "Input Signal" setting from "Auto" to "Manual", and set the "Off Timer" setting to "Disable" to prevent the monitor from going into the power off state. There is the possibility however, that these measures may not resolve the problem.