Device
EIZO Touch Panel Monitor and Stylus Compatibility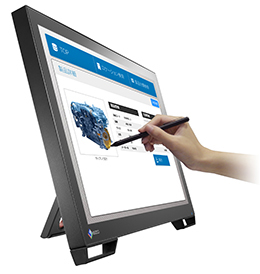 We have tested the compatibility between the below touch styluses and EIZO touch panel monitors.

Note: This information is provided based on our in-house testing and we do not guarantee the compatibility in respective user environments.
Compatibility
EIZO Touch Panel Monitors
RadiForce
MS236WT-A, MS236WT
DuraVision
FDS1782T
FDF2182WT
FDF2382WT, FDF2382WT-A

Stylus Pens
| Manufacturer | Type* | Product |
| --- | --- | --- |
| EIZO | Passive | TP5 |
| Adonit | Active | Dash 2 / Dash 3 |
*A passive stylus acts like a finger when touching the screen. It is suitable for pointing but not
recommended for delicate operation. An active stylus has circuitry built in so a screen responds
to the static electricity that it generates. This makes more delicate touch operation possible.
Only a projected capacitive touch panel can be used with an active touch stylus.