Compatibility
Jumping Mouse Pointer When Connecting to the Mini DisplayPort of Certain Macintosh PCs
Applicable Monitors: FlexScan SX2462W, SX2262W, ColorEdge CG245W, CG243W, CG223W
Applicable Serial Numbers
| Monitors | Serial Numbers |
| --- | --- |
| FlexScan SX2462W | – 46298080 |
| FlexScan SX2262W | – 27256100 |
| ColorEdge CG245W | – 21734080 |
| ColorEdge CG243W | – 47094080 |
| ColorEdge CG223W | – 25363070 |
Where to Find the Number
The serial number is on the name plate on the back of the monitor as shown below. Check the number following "S/N".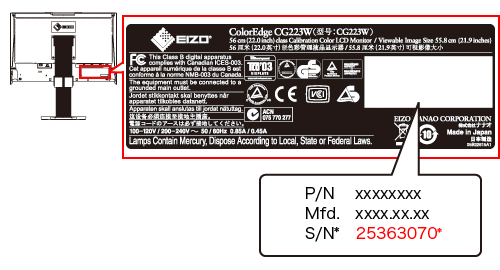 1. Description
When connecting the DisplayPort of certain EIZO monitors with the mini DisplayPort of certain Macintosh PCs, the mouse pointer may jump.
2. Counter-Measure
We are providing a software update for the monitor firmware that will improve this situation. Please read the user's manual included in the download file before installing the software.
Download Update Software (user's manual included)
3. Notes on Installation
Applying the software will require a Windows PC. Please be sure to conform to the following notes or your monitor may have troubles.
It is recommended that you install this software only if your monitor has a relevant serial number. If it does not, a failed installation may damage your monitor.
Do not plug in any device to the USB downstream port of the monitor. The device may break.
Quit all applications before updating the software and do not run any applications while it is being installed.
Set the PC so that it will not go into standby, sleep, or suspend mode.
Set the PC so that the screen-saver will not run.
Do not turn off the monitor and the PC during the installation. It may damage the monitor.
If you use a laptop PC to install the software, be sure to use the AC adaptor.
Do not unplug the USB cables during the installation. It may damage the monitor.
Do not operate the monitor when the software is being installed.