Compatibility
10-bit Display Method with Adobe Photoshop CS6 and Graphics Board Compatibility
1. Outline
This information explains the 10-bit display method using Adobe Photoshop CS6 and graphics boards (NVIDIA Quadro, AMD (ATI) FirePro/FireGL) that support 10-bit display on Windows 7 environment.
Please refer to the following for the display method and compatibility information for previous versions of Photoshop.
2. 10-bit display method using Photoshop CS6
2.1. Setting up graphics drivers
2.1.1. NVIDIA Quadro
Setting up by the NVIDIA control panel is not necessary because Photoshop CS6 supports the 10-bit display.
2.1.2. AMD (ATI) FirePro/FireGL
Right-click on the desktop and choose [Catalyst Pro Control Center].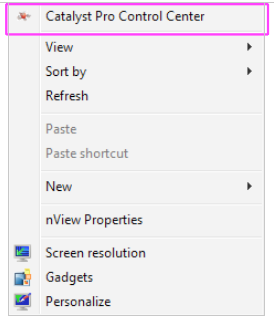 Choose [AMD-FirePro]-[AMD FirePro Settings] and check [Enable 10-bit pixel format support].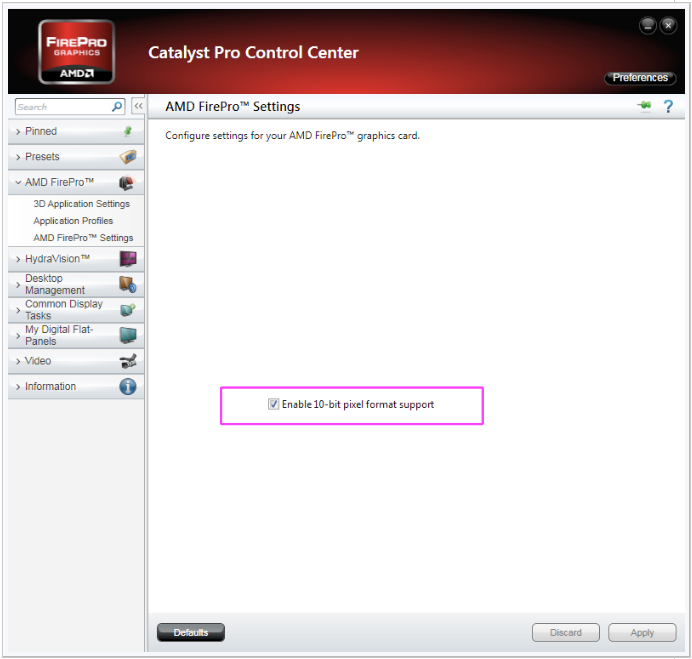 2.2 Setting up Photoshop CS6
Choose [Edit]-[Preferences]-[Performance] and click [Advanced Settings] button in "Graphics Processor Settings".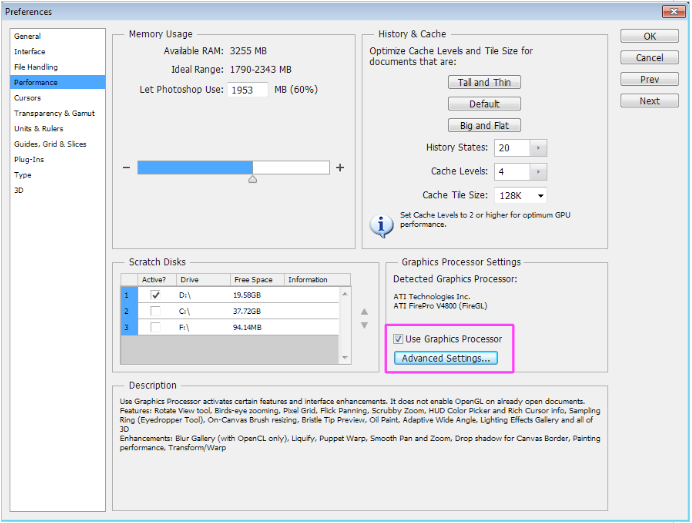 <
Then "Advanced Graphics Processor Settings menu" opens. Choose [Normal] or [Advanced] in "Drawing Mode" menu and check [30 Bit Display].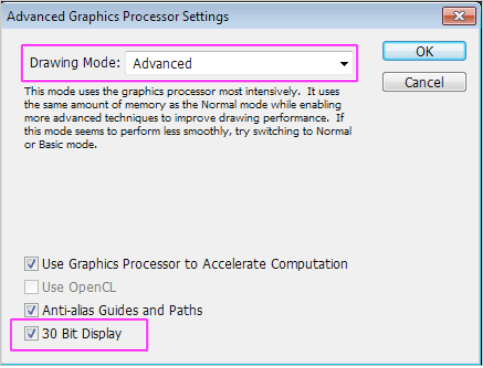 Turn off Windows Aero to display 10-bit color when using AMD FirePro/FireGL.
* It is not necessary when using NVIDIA Quadro.
Right-click on the desktop and choose [Personalize].
Choose a theme other than "Aero Theme*.
* e.g., themes in Windows 7 basic or hight contrast.

3. Compatibility information
10-bit display is available in the following combinations of monitors and graphics boards.
Monitors

CG303W (SingleLink / 10-bit*)

CG301W (SingleLink / 10-bit*)

CG276 (DisplayPort / 10-bit)

CG275W (DisplayPort / 10-bit, SingleLink/ 10-bit*)

CG246 (DisplayPort / 10-bit)

CG245W (DisplayPort / 10-bit)

CG243W (DisplayPort / 10-bit)

CG223W (DisplayPort / 10-bit)

CX270 (DisplayPort / 10-bit)

CX240 (DisplayPort / 10-bit)

CX230 (DisplayPort / 10-bit)

SX2762W (DisplayPort / 10-bit, SingleLink/ 10-bit*)

SX2462W (DisplayPort / 10-bit)

SX2262W (DisplayPort / 10-bit)

Graphics Boards

NVIDIA Quadro* 6000 / 5000 / 4000 / 2000 / 600 / 410
AMD FirePro V8800 / V8750 / V8700 / V7800 / V7750 / V5800 / V5700 / V4800 / V3800 / V3750 / V3700
AMD FireGL V8650 / V8600 / V7700 / V7600 / V5600 / V3600 (As of November, 2012)

Photoshop

CS6

OS

Windows
* With NVIDIA Quadro series, 10-bit display is available only in a DisplayPort connection.

<Reference information>