Abnormal image displayed in 6-bits when connecting to DisplayPort of particular graphics boards
Appendix 1
How to Find the Product Name and Serial Number (Use either of the following ways)
In the monitor's OSD menu, select [Tool] and then [Monitor Information].
Refer to the name plate located on the back of the monitor.
GX540 Name Plate Sample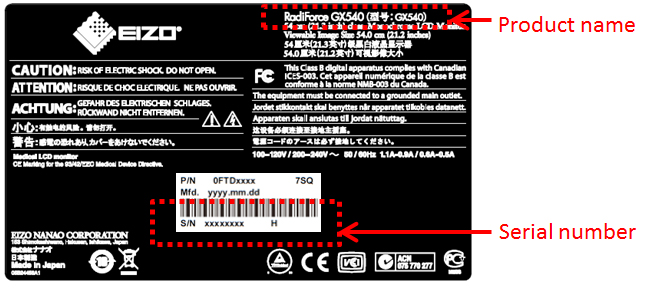 Serial number has 8 digits, XXXXX***.
XXXXX: Sequential number starting from 20001xxx.
Probability of Occurrence (according to our internal investigation)
The probability of occurrence after starting up a computer or returning from sleep mode is approximately 1 in 10,000.
Location of Primary Power Switch


Unplug and replug the DisplayPort signal cable.
RX440 Example