Press Releases
EIZO Upgrades RadiCS and RadiNET Pro for Use with Virtual Desktop Infrastructure and Faster User Interface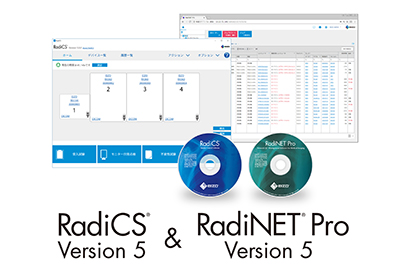 Hakusan, Japan, October 30, 2018 – EIZO Corporation (TSE: 6737) today announced the release of RadiCS and RadiNET Pro Version 5, with support for virtual desktop infrastructure (VDI) use and an improved and more intuitive user interface (UI) design.
RadiCS and RadiNET Pro software have been available since 2004, providing total support for the maintenance and control of client monitors from calibration, to acceptance and consistency tests. RadiCS and RadiNET Pro allow the control of individual client monitors and client monitors over a network respectively.
In Version 5, the software sees a more intuitive UI for increased work efficiency and faster performance. For example, the duration of performing a consistency test is reduced by 44% as tested in-house by EIZO, providing greater productivity. Furthermore the software is compatible with VDI, for improving work efficiency, reducing costs, and saving disk space.
In RadiCS Version 5 the Work-and-Flow features have become even more intuitive to use. Furthermore additional functions are added, such as the Auto Brightness Switch function. When viewing diagnostic images, the brightness of the patient list can often be distracting. With the Auto Brightness Switch the monitor displaying patient lists dims when the cursor is removed from the screen, allowing diagnostic images to be focused on without distraction.
RadiNET Pro Version 5 now comes with several new features such as automatic group policy application. When new monitors are installed in a hospital, the group policy already being used is automatically applied. This removes the need to set each new monitor with a group policy.
EIZO will be demonstrating RadiCS and RadiNET Pro Version 5 at Booth 6328 in North Hall B at the 104th Scientific Assembly and Annual Meeting of The Radiological Society of North America (RSNA) 2018 from November 25 to 29 in McCormick Place, Chicago, Illinois (USA).
Product Information
Availability
RadiCS and RadiNET Pro Version 5 will begin shipping from January, 2019. Date of availability varies by country so contact the EIZO group company or distributor in your country for details.
About EIZO
EIZO (TSE:6737), which means image in Japanese, is a visual technology company that develops and manufactures high-end display solutions. EIZO integrates hardware and software technologies with consulting, web hosting, and other services to help customers in business, graphics, gaming, medicine, maritime, and other fields work more comfortably, efficiently, and creatively. Headquartered in Hakusan, Japan, EIZO has R&D and manufacturing facilities in Japan, China, Germany, and the US, and representation in more than 80 countries.
For more information, please contact:
EIZO Corporation
153 Shimokashiwano
Hakusan, Ishikawa 924-8566
Japan
Phone: +81 76 277-6794
www.eizoglobal.com
All product names are trademarks or registered trademarks of their respective companies. EIZO, RadiCS, and RadiNET are registered trademarks of EIZO Corporation.