Press Releases
EIZO Opens New In-House Production Line for Ultra-High Sensitivity Video Cameras for Environmental Monitoring and Area Surveillance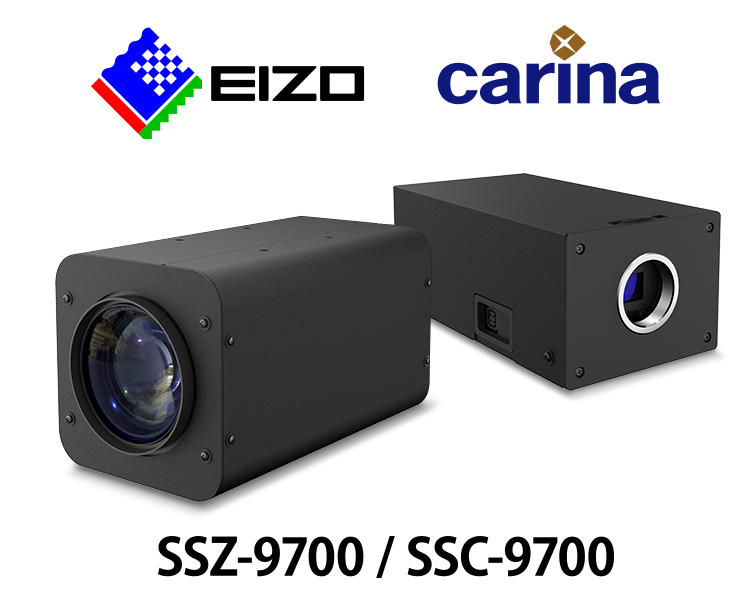 Hakusan, Japan, February 17, 2022 – EIZO Corporation (TSE: 6737) today announced that it has opened a new in-house production line for ultra-high sensitivity video cameras for environmental monitoring and area surveillance. The cameras, SSZ-9700 and SSC-9700, bring a new range of products to EIZO's extensive portfolio of visual solutions.
As a Visual Technology Company expanding its offerings to specialty markets such as healthcare and security & surveillance, EIZO welcomed Carina System Co., Ltd. to the EIZO Group in March 2018 to pursue further development of its systems business and provide amplified solutions to these markets. Established in December 2008, Carina System develops hardware and software combined systems for capturing, distributing, editing, and analyzing content for healthcare, broadcasting, and security & surveillance. EIZO and Carina System's combined know-how was used to establish dedicated research & development facilities, a production line, and quality control testing processes for ultra-high sensitivity video cameras. Consistent with EIZO's other product lines, these cameras are developed and manufactured in-house to ensure the highest quality.
The SSZ-9700 and SSC-9700 are two ultra-high sensitivity video cameras equipped with a 2.12 megapixel, 1/1.8 inch CMOS sensor. They are able to capture color images with a high level of clarity, even under extremely dim lighting conditions as low as 0.004 lx (SSZ-9700) or 0.003lx (SSC-9700). This provides clearer imaging in dark environments or poor weather conditions compared to a standard video camera and makes them ideal for a range of fields and applications where clear images are required, such as river ports, for natural disaster monitoring, law enforcement, and area surveillance.
The SSZ-9700 comes with a built-in 35x optical zoom lens that covers a focal length range of 6.5 to 230 mm. Combining 35x optical zoom and 10x digital zoom allows end users to achieve a maximum zoom ratio of up to 350x. This allows the camera to see objects and locations at an extreme distance, providing a high level of awareness to personnel. The SSC-9700 is sold as the camera body only so customers have the option to attach their desired lens to suit the target application.
With these new cameras, EIZO aims to strengthen its position as a provider of solutions that support the full "Imaging Chain", consisting of capturing, recording/distributing, and displaying of images. Both cameras are produced in-house and can be combined with other products in EIZO's portfolio, such as monitors or IP decoding solutions, providing reliable integrated solutions for a range of environments.

Additional Features
Defog function for increased visibility in hazy conditions
HDR function for capturing and combining multiple exposures, resulting in clear images with a wider dynamic range
3G-SDI and HDMI (SSZ-9700) or composite BNC (SSC-9700) video connections
Developed and manufactured in-house for long-term reliability
2 year, 24-hour use manufacturer's warranty

Product Information
Availability
The SSZ-9700 and SSC-9700 will begin shipping from April 2022. The date of availability varies by country or region. Contact the nearest EIZO group company or distributor for more details.

About EIZO
EIZO (TSE:6737), which means image in Japanese, is a visual technology company that develops and manufactures high-end visual solutions to enrich people in their professional and personal lives. EIZO offers total imaging solutions with a range of monitors, software, video capture, processing, and distribution solutions, cameras, and advanced integrated technologies to meet the specialized needs of customers in business, creative fields, healthcare, air traffic control, maritime, security & surveillance, and more. Headquartered in Hakusan, Japan, EIZO has R&D and manufacturing facilities in Japan, China, Germany, and the United States, and representation in more than 100 countries.
EIZO and the EIZO logo are trademarks of EIZO Corporation in Japan and other countries. The terms HDMI and HDMI High-Definition Multimedia Interface, and the HDMI Logo are trademarks or registered trademarks of HDMI Licensing, LLC in the United States and other countries. All other company names, product names, and logos are trademarks or registered trademarks of their respective owners.