Ultra-High Sensitivity HD Camera
The SSC-9700 is an ultra-high sensitivity video camera with a 2.12 megapixel, 1/1.8 inch CMOS sensor. It is useful in a range of fields and applications where clear images are required, including low-lit environments, such as river ports, for natural disaster monitoring, law enforcement, and surveillance of locations of interest.
Image Optimization Systems
Security & Surveillance
Ultra-High Sensitivity Camera
Touch Panel
Small-Size Monitors
Maritime
Features
Specifications
Documents Compatibility
Accessories
Awards & Reviews
Ultra-High Sensitivity for Video Surveillance
The SSC-9700 provides highly visible images in conditions that are dark or difficult to see in.
Color Imaging in Low-Lit Conditions
The SSC-9700 captures color images, even under extremely dim lighting conditions as low as 0.003 lx. This provides clearer imaging in dark environments or poor weather conditions compared to a standard video camera.
Below: Dam Water Level Surveillance Time: After Sunset / Weather: Cloudy

Below: Riverside Surveillance Time: After Sunset / Weather: Cloudy
High Visibility
Defog Function
The camera includes a function for lessening the impact that fog or haze has on the image. This allows operators to more easily identify objects and discern important visual information.
Digital Defog
The Digital Defog function stretches the contrast using image signal processing to adjust the difference in brightness and color for improved clarity of faint images.

2D/3D Noise Reduction
The camera includes unique 2D/3D noise reduction for optimal SN ratio even at high gain settings.
HDR Function
The camera is equipped with an HDR function for capturing and combining multiple exposures, resulting in clear images with a wider dynamic range.
Flexible Installation
Lens Mount
The SSC-9700 is equipped with a C mount for attaching a range of lenses.
Complete Connection
The SSC-9700 is equipped with 3G-SDI and composite (BNC) video connections. It is also equipped with an RS-485 communication interface for seamless integration into advanced surveillance systems.
Additional Features
Low power consumption
Developed and manufactured in-house for long-term reliability
Durability and Reliability
24-Hour Use, 2-Year Warranty
The SSC-9700 is built for 24-hour use and is backed by a 2-year manufacturer's warranty for long-term reliability.
Name of Parts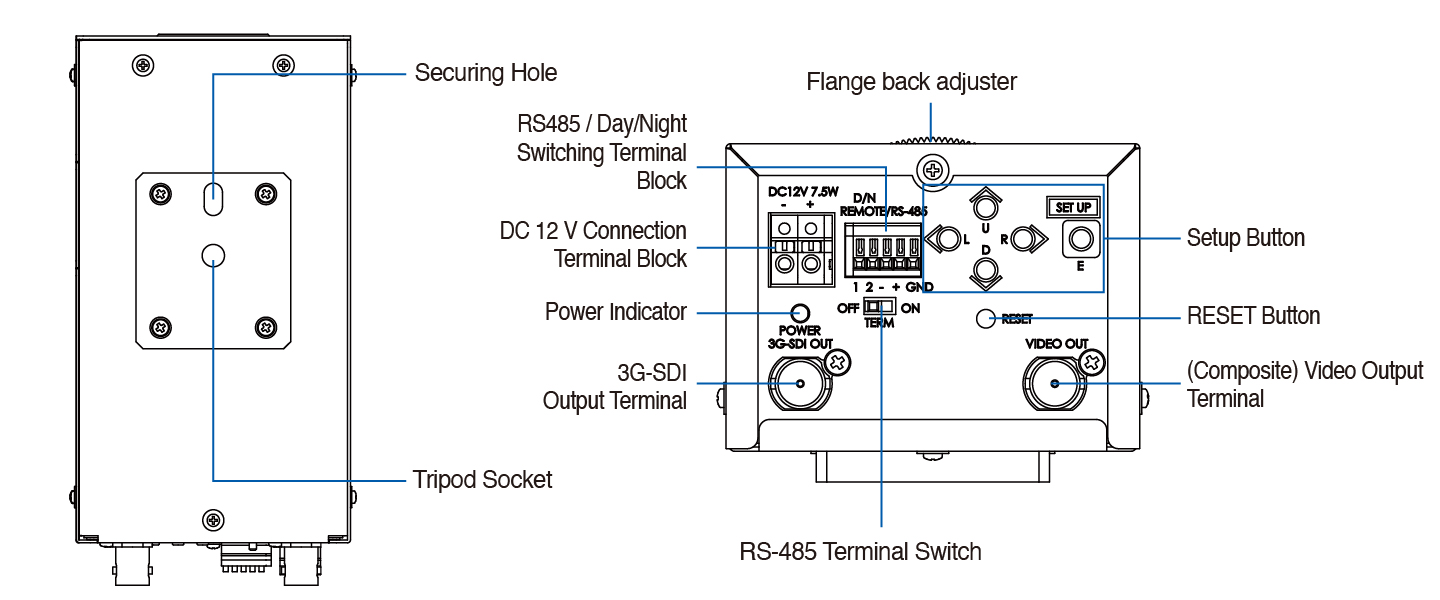 Full Solution
DuraVision IP decoding monitors or box solutions connect directly to a camera or switch for streaming video in real time. The SSC-9700 used with an IP decoding solution provides reliable video management for security & surveillance.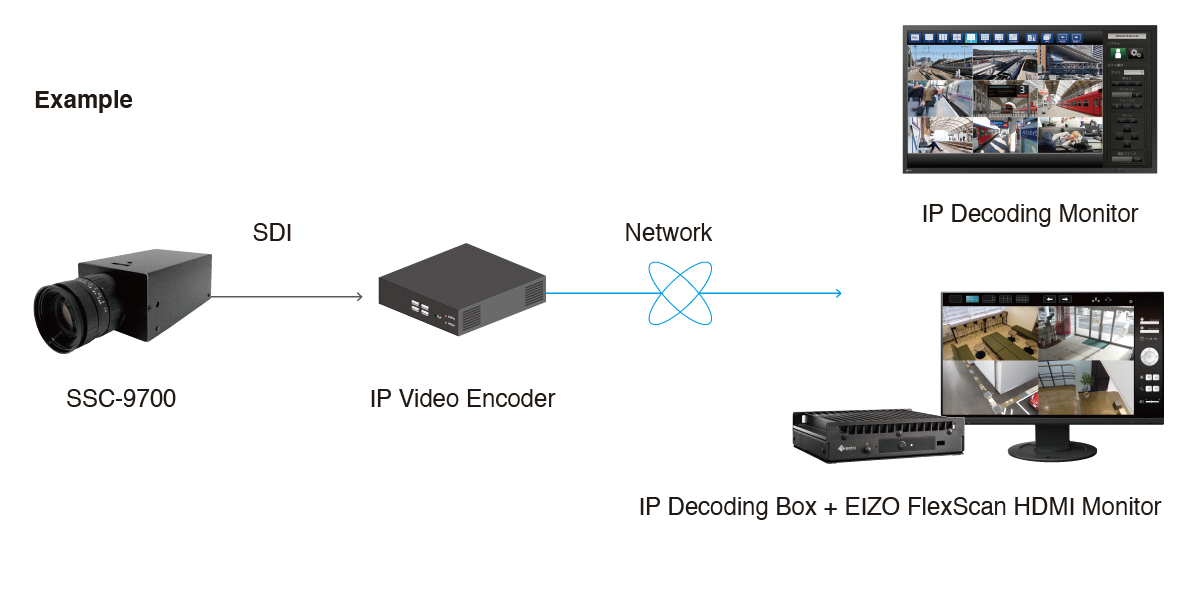 EIZO also offers the SSZ-9700 which comes with a 35x zoom lens.
Our Contribution to SDGs
| | | |
| --- | --- | --- |
| As part of its sustainability initiatives, EIZO is contributing towards the United Nations' Sustainable Development Goals (SDGs). | | |
Industry, Innovation, and Infrastructure
DuraVision offers a range of visual solutions for facilities that are indispensable to people's daily lives such as hospitals, businesses, airports, factories, public transportation hubs, and many more. We support the uninterrupted continuation of security, industrial, and other activities with robust product build, manufacturer's warranty, and after-sales services.


Environmentally Conscious
Our products for industrial environments are designed to promote energy efficiency for reduced power consumption and greenhouse gas emissions, while maintaining the high performance and functionality needed for creators in every industry. We also implement a responsible after-service recycling system.


Camera Unit
Imaging Sensor
Single Panel CMOS, RGB Bayer Array
Total Pixels (H x V)
Approx. 2.27 million pixels 2016 x 1128
Effective Pixels (H x V)
Approx. 2.12 million pixels 1936 x 1096
Pixel Size (H x V)
4.1 x 4.1 μm
Optical Size
1/1.8 inch
Sensor Framerate
59.94 fps / 50 fps (29.97 fps when in HDR mode)
Scanning System
Progressive
Minimum Illumination
0.003 lx (F1.4 1/30 s, 50 IRE, +78 dB)
Horizontal Resolution
900 TV lines or more
SN Ratio
50 dB or above (γ=1, Contour Correction OFF, DNR OFF)
Lens Mount
C mount
Lens Control
4 pin DC iris control
Exposure Mode
Full Auto, Shut. Prio., Gain Prio., Iris Prio., Manual
Gain
Manual: 0 - 78 dB (0.3 dB step)
Electronic Shutter
60 Hz system: 1/1, 1/2, 1/4, 1/8, 1/15, 1/30, 1/60, 1/100, 1/250, 1/500, 1/1000, 1/2000, 1/4000, 1/10000 s
50 Hz system: 1/1, 1/2, 1/3, 1/6, 1/12, 1/25, 1/50, 1/60, 1/100, 1/250, 1/500, 1/1000, 1/2000, 1/4000, 1/10000 s
ALC Adjustment
Level adjustment, Limits adjustment
Backlight Correction
On, Off, Spot
Gamma Correction
0.35 - 0.55 (0.01 step) / 1.0
DNR
Off, Low, High
White Balance
ATW1, ATW2, AWC, Manual, Low Temp., Hi Temp.
HDR Mode
Off, HDR, Auto Knee, Auto Black Stretch
Defog
Digital Defog: Off, Low, Mid, High
Color Matrix
R, G, B, Ye, Cy, Mg 6-axis adjustment
Image Quality Adjustment (Others)
Detail, Chroma, Black Level
Digital Zoom
1 - 10x
Image Reversal
Mirror, Flip, Mirror Flip
Privacy Mask
8 masks Gray, White, Black
Test Pattern
Color Bar, Grayscale, Built-in Cross Line
Interface
Image Output Terminal
BNC (3G-SDI), BNC (Composite)
Serial Port
RS-485
Relay Interface
IR Cut filter
Video Output
3G-SDI: 1080p/59.94 (LEVEL A), 1080i/59.94, 1080p/29.97, 1080p/50.00 (LEVEL A), 1080i/50.00, 1080p/25.00
Composite Video: NTSC, PAL Down Convert LETTER BOX / SIDE CUT / SQUEEZE
Other
Power Supply
DC 12 V ±10 % (Ripple 50 mVp-p or less)
Power Consumption
7.5 W
Operating Temperature / Humidity Range
-10 - 50°C / 10 - 90%
Storage Temperature / Humidity Range
-10 - 60°C / 10 - 90%
Dimensions (W x H x D)
78 x 63.8 x 144.7 mm
Weight
500 g
Supplied Accessories
User Manual
Warranty
2 Years (24-hour use)
Dimension Drawing
PDF
Brochures