Press Releases
EIZO Releases 23-Inch Monitor with Responsive Multitouch and Comfortable Handwriting for Marking Electronic Medical Records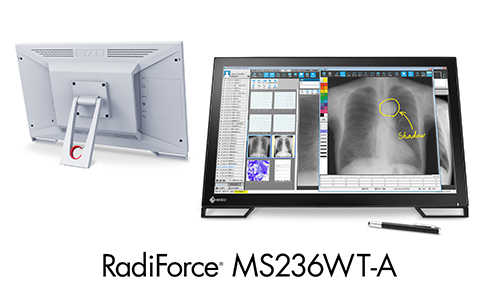 Hakusan, Japan, June 23, 2022 – EIZO Corporation (TSE: 6737) today announced the release of the RadiForce MS236WT-A – a 23-inch 2 megapixel (1920 x 1080 pixels) multitouch monitor ideal for displaying and marking electronic medical records and images in hospitals and clinics.

The RadiForce MS236WT-A features projected capacitive (PCAP) touch technology and can detect up to 10 simultaneous touches with high responsiveness to tapping, swiping, and flicking motions. The fully flat surface provides a seamless touch experience to the edges of the screen for smooth operation.

In addition to the supplied passive touch pen, the monitor also accepts input from commercially available active stylus pens and detects motions with high precision. For writing notes or detailed marks on medical records and images, the MS236WT-A can recline back as far as 70 degrees to lay in a nearly flat position on the desk, while palm rejection technology allows users to rest their hand directly on the screen without causing any unintended touch input. This affords users a writing experience that is more natural and comfortable compared to conventional desktop touch screens.

The MS236WT-A comes with a DICOM® Part 14 mode for which grayscale tones are preset at EIZO's factory for the optimally displaying monochrome medical images alongside patient charts. The MS236WT-A uses an LED-backlit IPS panel with wide viewing angles that minimizes color shift and contrast changes, even when viewed from an angle for further consistency. The monitor also comes with built-in stereo speakers for hearing touch interaction sounds when close to the screen.

Availability
The RadiForce MS236WT-A will begin shipping in August. The date of availability may vary by country or region. Contact the nearest EIZO group company or distributor for details.

Product Information
About EIZO
EIZO (TSE:6737), which means image in Japanese, is a visual technology company that develops and manufactures high-end visual solutions to enrich people in their professional and personal lives. EIZO offers total imaging solutions with a range of monitors, software, video capture, processing, and distribution solutions, cameras, and advanced integrated technologies to meet the specialized needs of customers in business, creative fields, healthcare, air traffic control, maritime, security & surveillance, and more. Headquartered in Hakusan, Japan, EIZO has R&D and manufacturing facilities in Japan, China, Germany, and the United States, and representation in more than 100 countries.
EIZO, the EIZO logo, and RadiForce are registered trademarks of EIZO Corporation in Japan and other countries. DICOM is the registered trademark of the National Electrical Manufacturers Association for its standards publications relating to digital communications of medical information. All other company names, product names, and logos are trademarks or registered trademarks of their respective owners.