Press Releases
EIZO Releases 15-Inch Square Monitor for Long-Term Supply to Back Offices and Control Rooms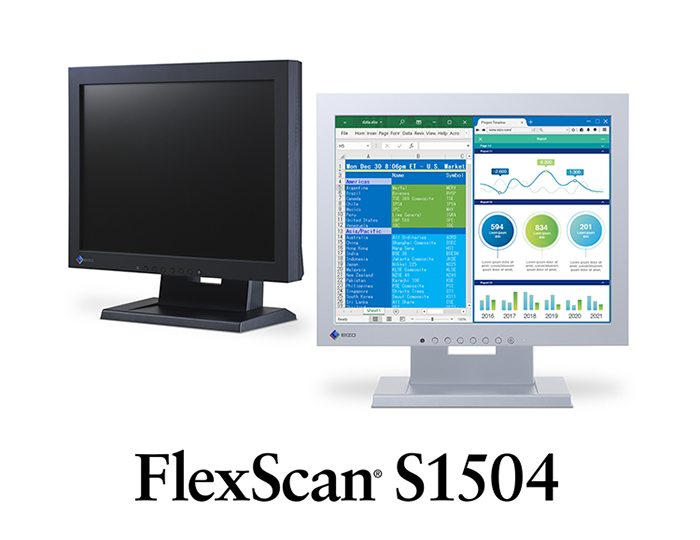 Hakusan, Japan, September 29, 2022 – EIZO Corporation (TSE: 6737) today announced the release of the FlexScan S1504 – a 15-inch square monitor with a 1024 x 768 native resolution for back offices and control rooms.
The S1504 is the successor to the 15-inch square monitor S1503-A. By changing the panel technology from TN (twisted nematic) to VA (vertical alignment), the S1504 has improved contrast ratio of 2500:1 and horizontal/vertical viewing angle of 176°.
EIZO has been supplying 15-inch square monitors to the market since 2008. This family of 15-inch monitors feature consistent housing and interfaces across each model. This ensures customers can rely on the lineup to suit their installation needs over the long life of their local systems.
Main Features
Compact 15-inch size with 1024 x 768 native resolution
Clear visibility with brightness of 400 cd/m2
Digital DVI-D and analog D-Sub mini 15-pin video signal inputs
Auto EcoView automatic brightness control function and Paper Mode
Environmentally friendly cardboard packaging
Built-in speakers
5-year warranty

Availability
The FlexScan S1504 will begin shipping in October. The date of availability may vary by country or region. Contact the nearest EIZO group company or distributor for details.

Product Information
About EIZO
EIZO (TSE:6737), which means image in Japanese, is a visual technology company that develops and manufactures high-end visual solutions to enrich people in their professional and personal lives. EIZO offers total imaging solutions with a range of monitors, software, video capture, processing, and distribution solutions, cameras, and advanced integrated technologies to meet the specialized needs of customers in business, creative fields, healthcare, air traffic control, maritime, security & surveillance, and more. Headquartered in Hakusan, Japan, EIZO has R&D and manufacturing facilities in Japan, China, Germany, and the United States, and representation in more than 100 countries.
EIZO, the EIZO logo, and FlexScan are registered trademarks of EIZO Corporation in Japan and other countries. All other company names, product names, and logos are trademarks or registered trademarks of their respective owners.