Case Studies
Tsutomu Kojima - Printing Director
Printing director Tsutomu Kojima, one of EIZO's ColorEdge Ambassadors, has long been using ColorEdge for his work. We talked to Mr. Kojima about what he sees as important when creating works and his experience using ColorEdge.
| | |
| --- | --- |
| | |
The images above are the works of photographer Michiko Sato (Japan) from her album "MICHIKO 2018 ワタシテキ" (MICHIKO 2018 WATASHITEKI), which Tsutomu Kojima carried out print direction for.
Michiko Sato was born in Tokyo and graduated from the Photography Department at Tokyo Polytechnic University. After working in the advertisement division of Shiseido Company Limited, she left to become a freelance photographer. She holds personal and group exhibitions mainly in Tokyo as well as planned events, courses, and seminars. Through her experiences in advertising photography, mainly of cosmetic products, the concept of "beauty" is prevalent in all her work. She even acquired instructor qualifications for Tai Chi as part of her pursuit to find inner beauty. She is a member of the Japan Advertising Photographer's Association (APA) and the Japan Professional Photographers Society (JPS), as well as an Advisor of Nikkor Club. She has additional works in her albums "HOPSCOTCHINGS" and "Fragments of Wisdom".
Michiko Sato's website: http://www.rin-photo.com/
What do you see as important when creating works?
I make prints for various fields, specifically illustrations, photographs, and cultural properties. What I emphasize is different in each. For example, when it comes to photographic works, I want to stick as closely as possible to the photographer's intent when giving shape to the photograph as a printed work. Specifically, this is about how to determine the course of action from paper selection to retouching. There are some people who have a clear picture of what they want from the start, but there are also some who probe into the expression while taking into account how I feel about and interpret the photograph as a printing director. As two professionals, we square off with each other about the expression. I try to maintain a relationship as equal partners, because I have a heavy responsibility with respect to the finished work. The final product is printed on paper, but the monitor has to be up to par as the gateway to capturing the feeling. I believe that's where communication begins.
What has been your experience with ColorEdge?
The first ColorEdge I used was the CG21. I think it was around 2004. It's hard to put into words, but my impression was that the screen display was graceful, and I remember being surprised at how elegant it was. It was easy to use and easy on the eyes. Before the CG21 it was common knowledge that you didn't rely on the monitor for the colors, but with the improvements in color management of ColorEdge monitors, I can now focus on creating works on the monitor until I'm satisfied.
I currently use a MacBook Pro 15", Late 2016 and connect to the CG318-4K. The Retina display and CG318-4K have a similar resolution so it is easy to view. I feel that with this setup, my eye fatigue has been reduced compared to before. Since my CG318-4K is used exclusively to show image data, I feel that my sense of immersion with my work and focus has increased. As 50 million pixel photo data becomes more mainstream, I think there is great meaning to using a monitor with 4K capability. I used StartTech USB-C to DisplayPort converter cable with my CG318-4K as recommended by EIZO.
Furthermore, when doing retouching work, a pen tablet is essential so I use a Wacom Intuos Pro Large tablet and EIZO's light stand Z-80PRO-EIZO (available only in Japan) to compare my prints. Something one may think is unusual with my setup is probably the iPad Pro in the lower left. I am using this iPad Pro as a third monitor connected to Wi-Fi (peer-to-peer). It is mainly used to display thumbnail images with Adobe Bridge. Using the iOS in split view also allows me to use the memo application on half the screen for easily making notes while I'm working.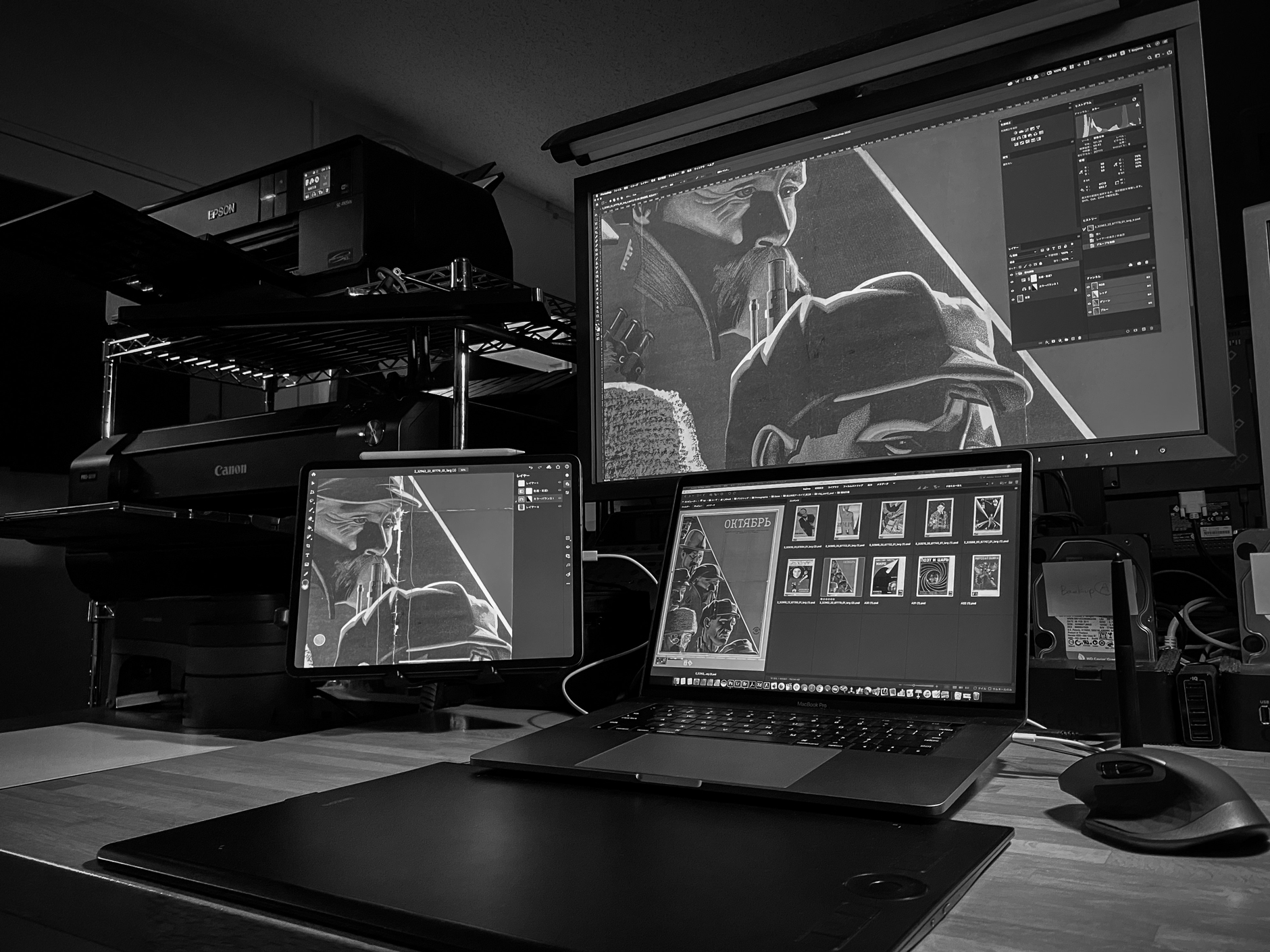 | | |
| --- | --- |
| Tsutomu Kojima is a member of EIZO's ColorEdge Ambassador Program. The program showcases creatives who are committed to inspiring and educating artist around the world of all levels. To view his profile, click here. | |