Sustainability
Corporate Culture
While respecting the human rights and promoting a mutual understanding of different cultures, our Group companies and distributors in various countries maintain strong mutual relationships to support customers worldwide.
People are the key to supporting the EIZO brand. Upholding our free and open corporate culture, we constantly work to create an environment in which each employee can demonstrate their abilities and thrive.
Business with a Global Outlook and Mindset
EIZO products are sold in more than 100 countries and regions worldwide by a network of Group companies and distributors.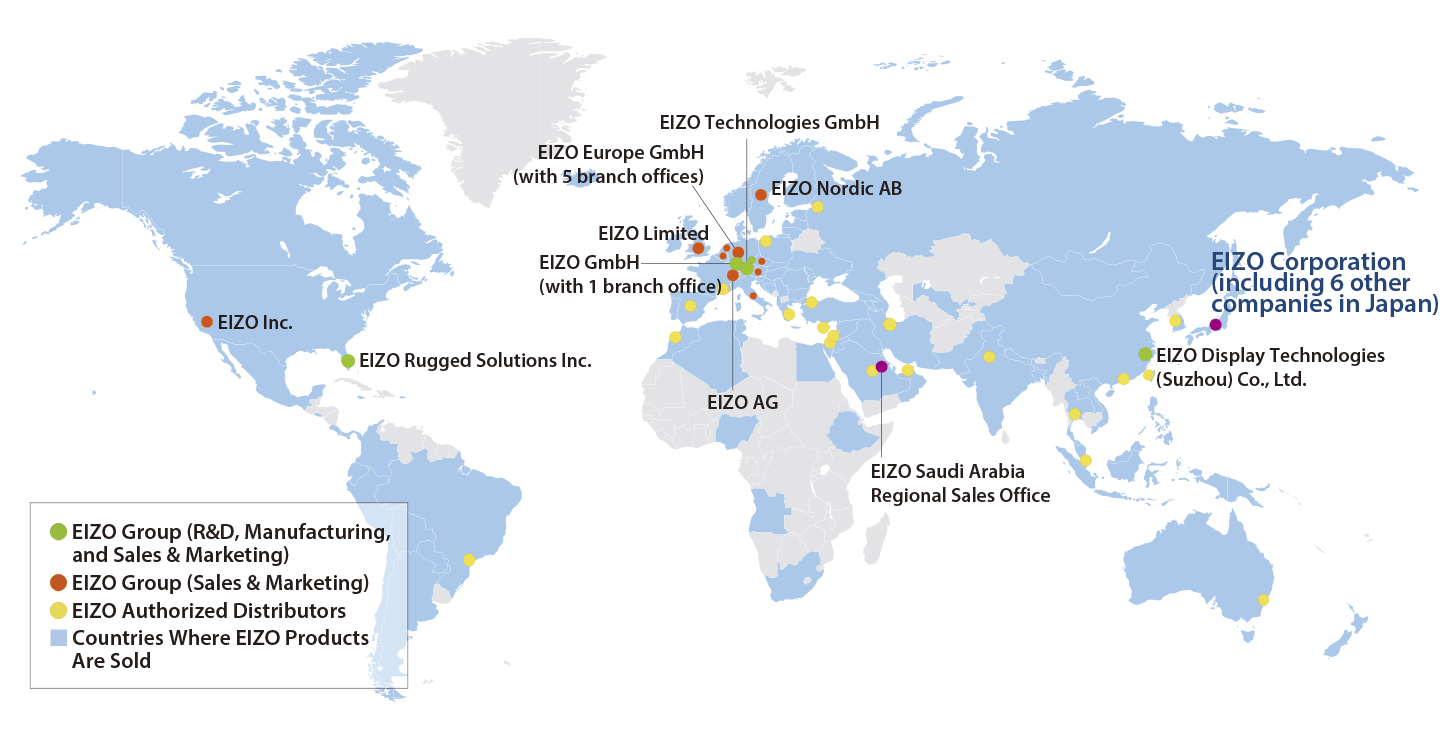 Sales Network
From the very beginning of selling proprietary products outside Japan, we have adopted a one country/territory, one distributor system, in which a single distributor (or Group company) is responsible for all sales within a given country or territory. This unique system enables us to accurately discern customer needs in each country or territory by distributors or Group companies that fully understand the culture and values of their respective regions and provide optimal products. It also allows us to offer products through sales methods that are appropriate for each country or territory.

However, custmers in specific market such as healthcare, graphics and V&S (Vertical & Specific) demand direct, ongoing communication with the manufacturer as well as solid global support. To effectively respond to these specific market environments and diversified sales channels, we have sales subsidiaries in the United States, United Kingdom, Germany, Switzerland and Sweden. We strive to achieve further business growth in Europe by reinforcing regional sales in North America and Europe. Furthermore, to expand our sales activities into emerging markets, where our specialized markets are expected to grow, we have employed local sales staff in Saudi Arabia, the U.A.E. and India and are enhancing our approach to customers.


100% In-house Development & Production
The EIZO Group has three production sites in Japan, Germany, the United States and China, forming a network that maintains a coherent development and production system throughout the Group. This enables us to apply stringent quality control from development to production, promote the creation of development synergies that maximize the strengths of each base, and construct an optimal production system for each market and customer. In addition, we promptly share information obtained in the course of development and production along with opinions and requests obtained from markets and customers to incorporate into product development and customer support.

Motivating Workplace
Success of a Diverse Workforce
EIZO comprises 17 companies globally (as of August 2020) and we harness the talents of our diverse workforce. While respecting the human rights of each employee and promoting a mutual understanding of different cultures, the entire group strives to develop our business with a sense of unity.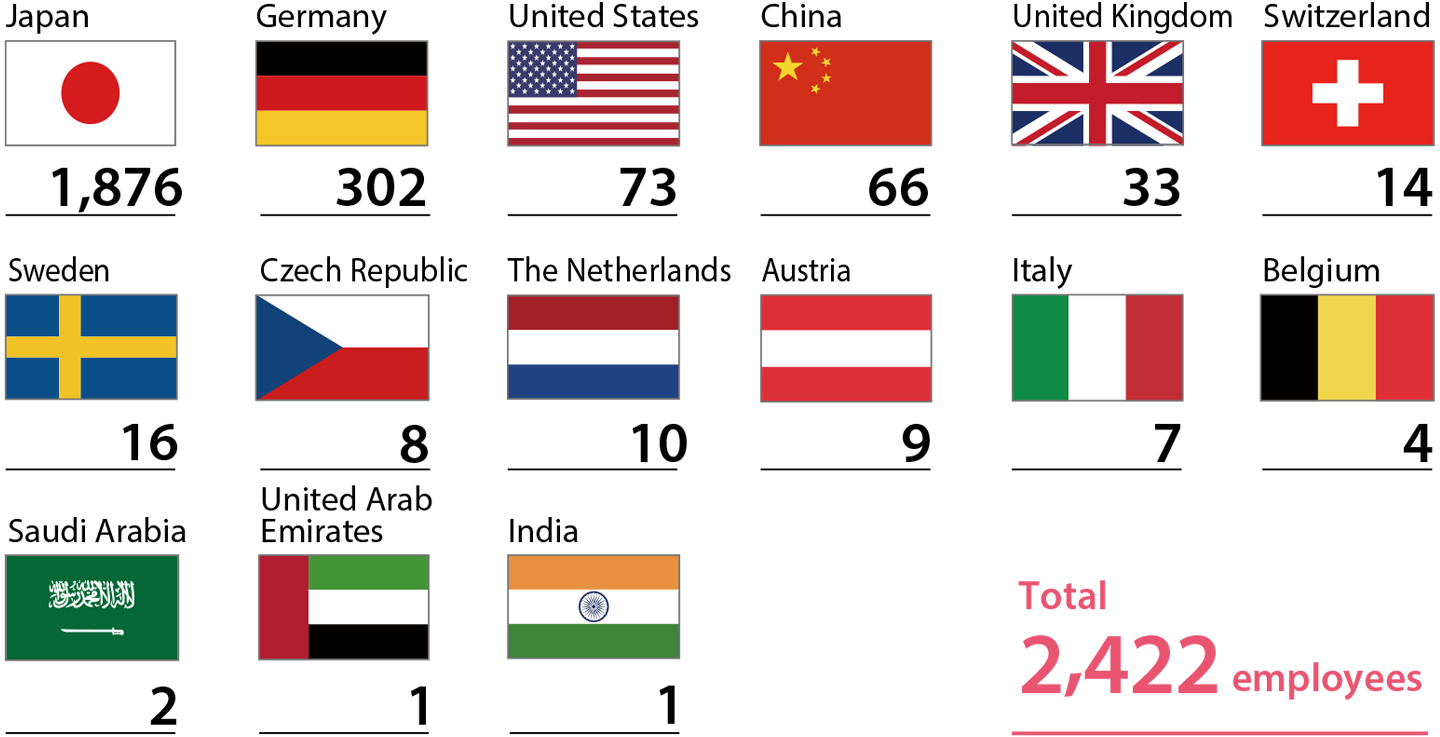 Overseas group companies are led by local managers, and we pay careful consideration to the circumstances, cultures and customs of each country creating the most suitable working environment.
Broadminded Corporate Culture
We have been cultivating a free and open corporate culture that encourages flexible and active communication between departments. Open exchanges take place between EIZO members regardless of position. Employees are encouraged to freely voice their opinions and are given opportunities to take on challenges. Our broadminded corporate culture is one of our strengths, which enables individual employees to fully demonstrate their abilities and in turn allows us to provide excellent products and services in addition to reforming our internal environment quickly.
Developing Trust-Based Labor-Management Relations
Mutual understanding is the cornerstone of labormanagement relations. In keeping with this fundamental point, we encourage dialog between labor and management. We have established a consultation conference and a labor committee in each group company under the laws and specific circumstances of each respective country. We take advantage of these opportunities to develop good labormanagement relationships.
Cultivating the EIZO Mindset
We are working to nurture and sharing the "EIZO mindset" of creating the "world's best" to unite EIZO in creating and delivering stateof-the-art products and services to customers globally.


EIZO United

Around 100 participants from Group Companies and EIZO Authorized Distributors gather once a year at EIZO Corporation (Japan) to attend the "EIZO United" conference, where we share our latest technologies, the status of sales in each country, various initiatives and the overall product and business direction. Not only does this deepen everyone's understanding of our future direction, it fosters a strong sense of unity in the group through mutual exchanges. This also provides opportunities for employees in various departments to present their department's initiatives to cultivate a sense of belonging to "One EIZO."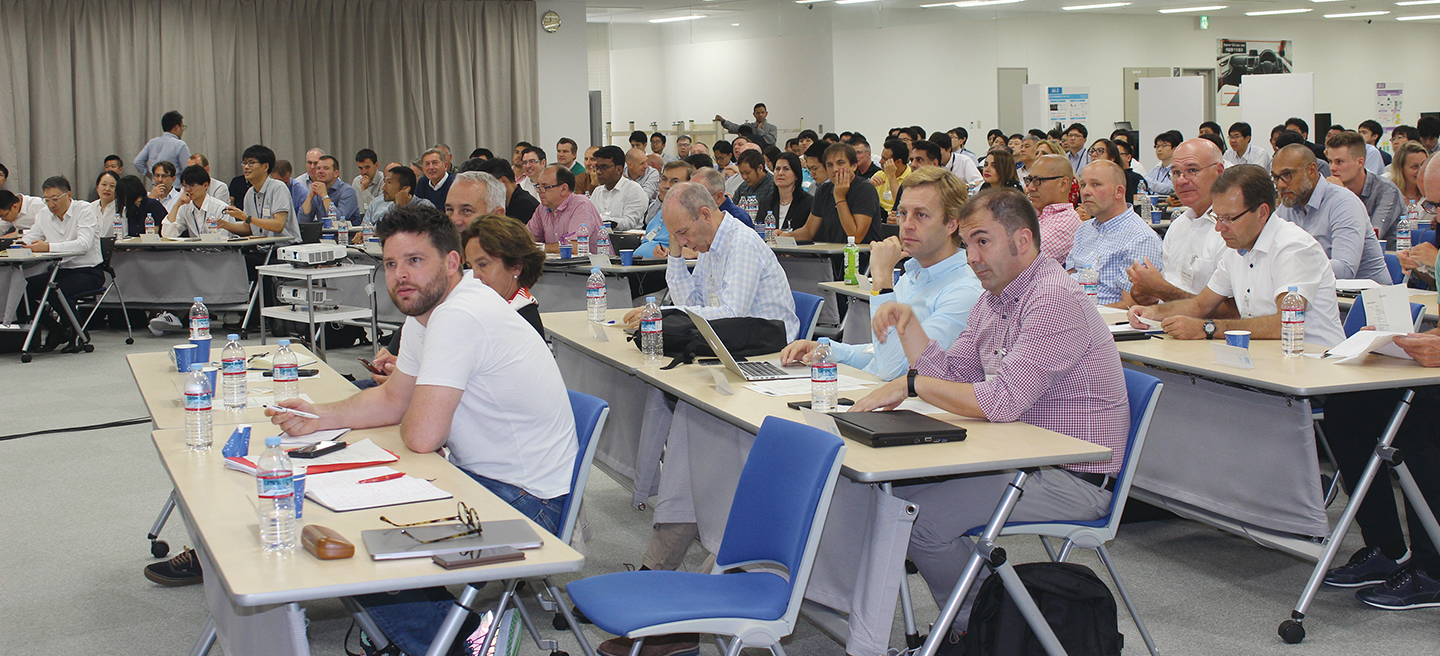 Global Meetings

We carry out a variety of meetings across EIZO every year. These include global meetings for raising the level of quality control throughout EIZO, a EURO Meeting for discussing sales strategies within EIZO (in Europe), and other business unit meetings.
Joint Participation in Trade Shows

EIZO participation in international trade shows includes staff from the exhibiting company as well as from other group companies to share market information and conduct coordinated global sales and development activities.
In fiscal year 2020, we refrained from holding international meetings, including EIZO United and canceled our participation in trade shows to help prevent the spread of COVID-19 and protect our employees. International meetings were held via teleconferencing and other means.