Corporate Social Responsibility
Promise 2: Environmental Consideration
Energy and Environmental Basic Policy
| | |
| --- | --- |
| The EIZO Group is aware that one of our key responsibilities is to conduct business taking the environment into consideration. We strive to contribute to the sustainable development of our society by being conscious of the impact our business has on the environment. We will continue our concerted effort in the effective use of resources, climate change mitigation, environmental protection (including the protection of biodiversity and ecosystems), prevention of pollution, and reduction of other environmental risks. | |

We therefore:
Comply with legal, moral and other requirements regarding environmental protection and the effective use of energy.

Provide eco-friendly products and services, implement activities to reduce our environmental footprint, and take active measures to prevent pollution.

Constantly improve our environmental impact performance when conducting business such as: use of sustainable resources, pollution prevention, green procurement, enhancement of efficient energy use, and reduction of greenhouse gas emissions.

Establish an energy and environmental management system that is in accord with business activities and energy and environmental management goals, implement, review and continually improve our performance.

Conduct awareness-raising activities targeting our members to improve understanding of environmental protection as well as the use of clean and sustainable energy.
Environmental Management System
We have been operating the Environment and Energy Management System under our Energy and Environmental Basic Policy since obtaining ISO14001 certification in July 1998. We have also implemented measures for generating less waste and reducing resource and energy consumption. Moreover, we have achieved progress in other areas by operating the system, which sets targets that explicitly respond to the trend toward environmentally sound products and the growing public interest in eco-products.

Activities under the Environmental Management System
| | |
| --- | --- |
| Enhancing the environmental performance of our business operations requires integrating them with our environmental protection activities. To do so, EIZO has environmental protection initiatives in place that comply with the revised ISO 14001:2015 standards under the leadership and control of the director responsible for environmental management. These initiatives are linked with management policies and business strategies set by top management. The Corporate Safety Section of the General Affairs Department is responsible for promoting our corporate activities while also managing the energy consumption of our facilities and equipment, chemical substances and waste. The Certified Standards Section of the Technology Management Department is responsible for our products, gathering environmental information from around the world and promoting the development of environmentally sound products. | |
Compliance with Environmental Standards
In our effort to proactively develop environmentally sound products, we observe the legal requirements of Japan and other countries and comply with major voluntary environmental standards in each market for our flagship products.

In Europe a number of regulations are being enforced, including the WEEE Directive (collection and recycling of discarded electrical and electronic equipment), the RoHS Directive (use of certain hazardous substances in electrical and electronic equipment), the REACH Regulation (registration, evaluation, authorization and restriction of chemicals) and the ErP Directive (eco-designing for energy-related products). These regulations were developed in Europe; however, they have been playing an important role in encouraging other countries and regions to take similar steps. Our products comply with these regulations.

We also respond to environmental labeling standards such as TCO Certified Generation 8 (international comprehensive standards for monitors), EPEAT (international environmental standard for PCs/monitors), ENERGY STAR 8.0 (energy efficiency standard established in the United States) and PC Green Label (Japanese environmental standard for PCs/monitors). In addition, we are actively involved in the development of TCO, ENERGY STAR and PC Green Label. EIZO will continue to focus on developing green products while keeping an eye on the development of environmental labeling.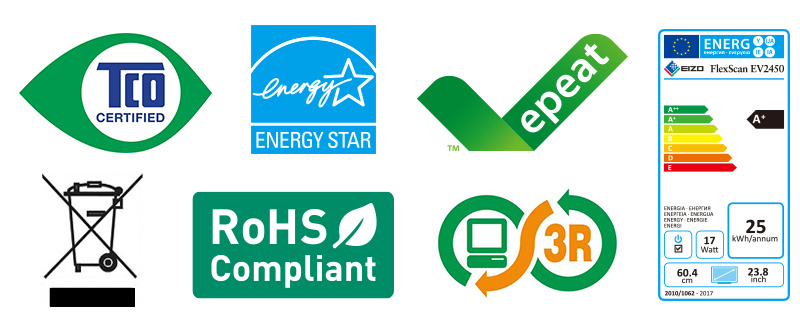 Green Procurement
To promote the conservation of the global environment, EIZO Corporation strives to achieve environmentally-friendly manufacturing, with the goal of creating a more economically-minded society with a sound cycle of materials use.
We intend to persevere in our efforts to promote environmental conservation while continuing to improve our practices, so that all of our activities will meet the environmental standards demanded by customers and society. To help fulfill our social responsibilities, we have created Green Procurement Standards that will guide our materials procurement.
To achieve environmentally-friendly products that generate reduced environmental loads, the parts and materials that make up the products must themselves generate reduced loads. The procurement of such parts and materials is critical to realizing our goal. The understanding and cooperation of our suppliers represent a crucial part of our efforts to provide environmentally-friendly products.

▶ Green Procurement Standards, Manual and Tool for suppliers of EIZO corporation is here.
Renewable Energy
Generating Solar Power at the EIZO Global Headquarters
EIZO's global headquarters are in Hakusan, Japan - an area abundant in nature. To the west is the Sea of Japan and to the east the picturesque Hakusan mountain range. Surrounding our headquarters are hundreds of acres of fields producing rice, Japan's staple crop. To preserve the natural environment surrounding us, we are taking steps to reduce CO2 emmissions.


One way we are addressing this is by turning to renewable energy resources. We have 715 rooftop 180 kW solar panels on our factory which began operation in 2016. Nearby at ground level we have another 1,014 250 kW solar panels.

Solar Panels on the Roof
The annual output of the solar panels is 373,000 kWh. This represents a reduction in carbon dioxide emissions equivalent to 239 tons/year.

Solar Panels on the Ground