Features
Specifications
Documents Compatibility
Model Variations
PCSK-04

Black 

White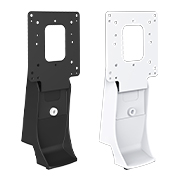 Supported Models
FlexScan
Premium
31.5"
EV3240X
27"
EV2740X
PCSK-03

Black 

White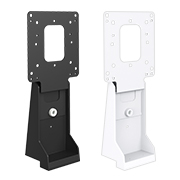 Supported Models
FlexScan
Premium
37.5"
EV3895
27"
EV2795
24.1"
EV2495
23.8"
EV2490
New Standard
31.5"
EV3285
27"
EV2785, EV2781
24.1"
EV2485
23.8"
EV2480
Basic
27"
EV2760
24.1"
EV2457, EV2456
23.8"
EV2451
DuraVision
Security & Surveillance
-
DX0212-IP, DX0211-IP
PCSK-03R

Black 

White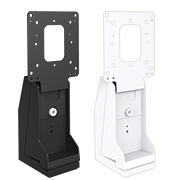 Supported Models
FlexScan
Basic
23.8"
EV2460
22.5"
EV2360
DuraVision
Security & Surveillance
-
DX0212-IP, DX0211-IP
For the Office
Free Up Your Workspace with a Stand Bracket
VESA-compliant stand brackets let you easily mount a client terminal such as a thin client or mini PC to the back of the monitor. The space the client terminal previously occupied is now freed up so you can make better use of your desktop. Even with the client terminal attached you can adjust the monitor's stand freely.


Match Accessories from Front to Back
The brackets are available in both black and white for an all-around coordinated look between the monitor's cabinet, bracket, and cables.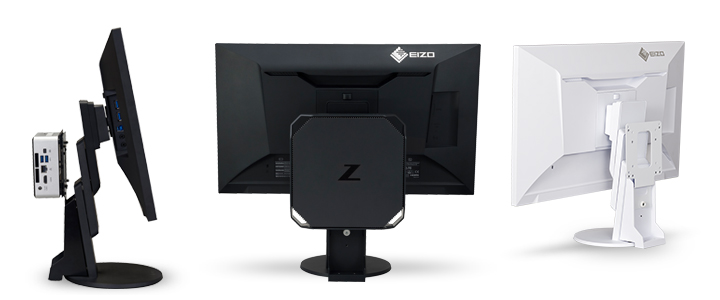 Safe to Use with Various Client Terminals
The bracket has been tested with several companies' client terminals. When installed correctly, the bracket does not interfere with the balance of the monitor so that even a heavy client terminal will not cause your monitor to overbalance.


For Security & Surveillance
Clean Workspace for Security Environments
The DuraVision DX0212-IP is an IP decoding solution for security & surveillance environments that maintains multiple video feeds from connected IP cameras. It can attach directly to the monitor stand using the bracket for a cleaner workspace in security & surveillance environments.

Validation Results
Manufacturer
Model Name
PCSK-04
PCSK-03
PCSK-03R
Client Terminal
Dell
Wyse 3010TC (Formerly: T10)
Yes
Yes
Yes
Wyse 5010TC (Formerly: D10D / D10DP)
Yes
Yes
Yes
Wyse 5020
Yes
Yes
(Not evaluated)
Wyse 5030PCoIP (Formerly: P25)
Yes
Yes
Yes
HP
t310 Zero Client
Yes
Yes
Yes
t310 G2 Zero Client
Yes
Yes
Yes
t520 Thin Client
Yes
Yes
Yes
t530 Thin Client
Yes
Yes
Yes
Desktop PC
HP
EliteDesk 800 G3 DM
Yes
Yes
Yes
EPSON
Endeavor ST180E
Yes
Yes
Yes
HP
Elite Slice
Yes
Yes
Yes
GIGABYTE
GB-BKi7HT-7500/GB-BKi7HT2-7500
Yes
Yes
Yes
Mini Workstation
HP
Z2 Mini G4 WorkstationEvaluation Details
Yes
Yes
Yes
Z2 Mini G3 Workstation
Yes
Yes
Yes
Lenovo
ThinkStation P320 Tiny
Yes
Yes
Yes
IP Decoding Box
EIZO
DuraVision DX0212-IP
Yes
Yes
Yes
Image Optimization System
EIZO
DuraVision EVS1VX
Yes
Yes
Yes
DuraVision EVS1VS
PCSK-04
| | |
| --- | --- |
| Cabinet Color | Black, White |
| Compatible Monitor | |
| Hole Spacing (VESA Standard) | 100 x 100 mm, 75 x 75 mm |
| Weight | 430 g |
| Dimension Drawing | PDF |
PCSK-03
| | |
| --- | --- |
| Cabinet Color | Black, White |
| Compatible Monitor | |
| Hole Spacing (VESA Standard) | 100 x 100 mm, 75 x 75 mm |
| Weight | 400 g |
| Dimension Drawing | PDF |
PCSK-03R
| | |
| --- | --- |
| Cabinet Color | Black, White |
| Compatible Monitor | |
| Hole Spacing (VESA Standard) | 100 x 100 mm, 75 x 75 mm |
| Weight | 500 g |
| Dimension Drawing | PDF |
PCSK-04
Manuals
PCSK-04 User's manual
English
Chinese-Simplified
Japanese
1.14 MB
PCSK-04 Installation Manual
English
3.4 MB
PCSK-04 Installation Manual
Chinese-Simplified
3.65 MB
PCSK-03
Manuals
Product version C : PCSK-03 User's manual
English
Chinese-Simplified
Japanese
966 KB
Product version C : PCSK-03 Installation manual
English
3.98 MB
Product version C : PCSK-03 Installation manual
Chinese-Simplified
4.21 MB
Compatibility
PCSK-03R