54.6" Primary Control Monitor
The Raptor RP5525 is a 55-inch 4K x 2K primary control monitor developed specifically for ATC. It combines high resolution with smart technologies for reliable and streamlined operation.
Primary Control Monitors
Tower Monitors
Encoding & Streaming Solutions
Data Capture & Content Management Solution
Graphics Boards
Features
Specifications
Documents Compatibility
Accessories
Awards & Reviews
50+ Years of Design and Manufacturing Expertise
Backed by over 50 years of technical expertise in visual display solutions, the Raptor RP5525 complements EIZO's line of 2K and 4K primary control monitors with a model that provides further value with a spacious screen size, smart technologies, and operational reliability.
Make the Switch to a Smarter Monitor
Intelligent Display Platform
The monitor is equipped with EIZO's Intelligent Display Platform (IDP) developed specifically for ATC. The IDP enables simultaneous display of video signals from up to four independent sources. Traditional Picture-in-Picture (PinP) and Picture-by-Picture (PbyP) functions are limited to a certain number of predefined layouts, providing a relatively inflexible display environment. With IDP, users have complete freedom to place each window anywhere on the screen, as well as scale and assign layer order priority.
Display up to four video sources simultaneously.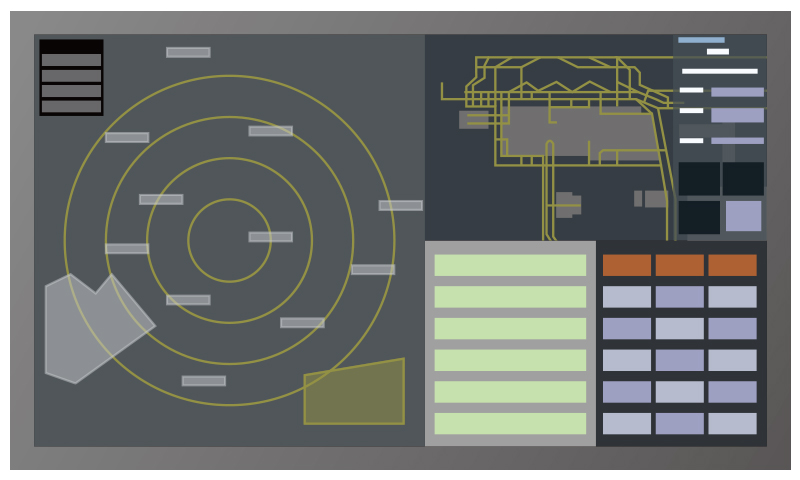 Freely arrange each source window anywhere on the screen.
Actual size

Scaled
(maintains aspect ratio)
Full screen
(stretched)
Integrated Switching
The monitor offers EIZO's SwitchLink internal switching management technology as an option. SwitchLink enables seamless switching of keyboard and mouse without the need for an external KVM switch. Up to four video signal feeds can be connected to the monitor with the ability to connect an additional two auxiliary monitors, for an up to six-workstation configuration operated by a single keyboard and mouse.
SwitchLink connected up to 6 video sources. (4 inputs on a single screen and 2 auxiliary monitors)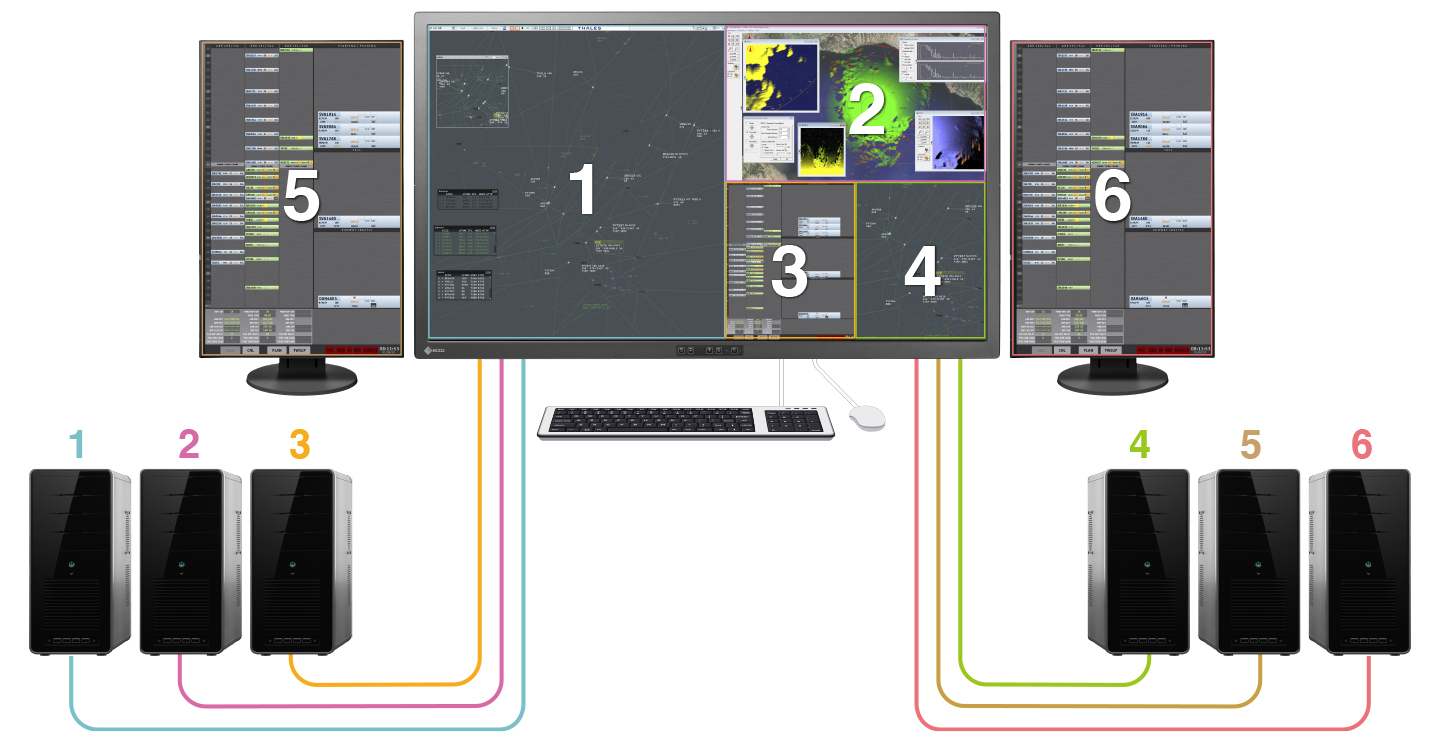 SwitchLink Mouse
Simply moving the mouse cursor across each window will instantaneously and automatically switch workstation inputs. The response time when switching mouse input to another workstation is approximately 0 ms for completely smooth operation.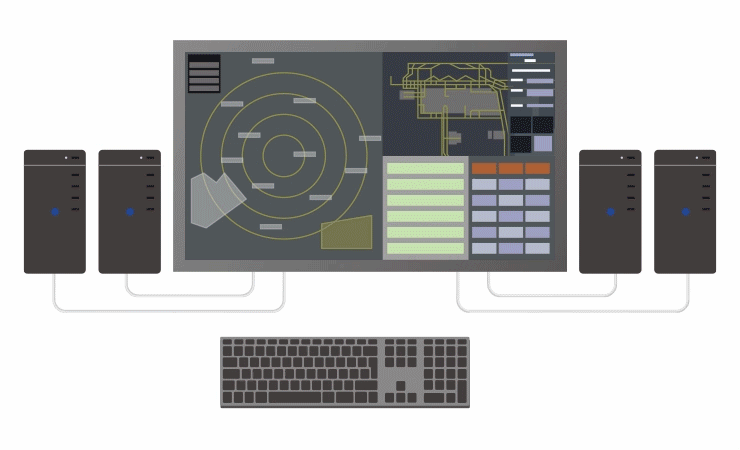 SwitchLink Keyboard
To toggle between workstations, EIZO also implements keyboard hotkey switching with SwitchLink. By activating a predefined hotkey, USB control of the keyboard and mouse will switch to another workstation.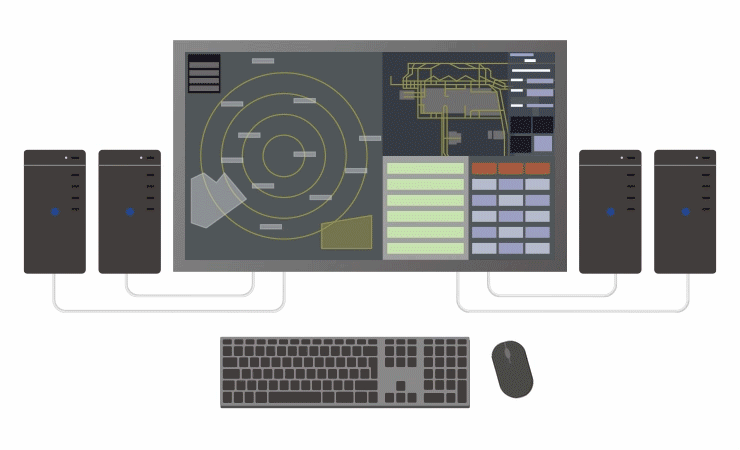 Streamline Installation and Maintenance
With SwitchLink, video sources connect to the monitor directly, eliminating the need for a KVM switch.

Traditional configuration using a KVM switch.


SwitchLink eliminates the need for a KVM switch.

 
Reduce Cabling and Cable Management

SwitchLink is built directly into the monitor, eliminating the need for the KVM switch and additional cables for a streamlined installation.

Reduce Power Consumption and Connection Requirements

Since SwitchLink is built into the monitor, it does not require any additional power connections, reducing power requirements of the system.

Avoid Compatibility Issues

SwitchLink removes some of the risk for compatibility or driver issues caused by traditional KVM switches. The monitor and built-in switching component are developed by the same engineering team at EIZO to ensure smooth handshaking between internal components and optimum performance throughout the lifetime of the monitor.
Learn more about IDP and SwitchLink in this article.
Last Frame Display NEW
In mission-critical ATC where every second counts, air traffic control officers (ATCO) need to be aware if there is any disruption to the image on screen. EIZO's unique Last Frame Display function detects if the video signal is disrupted and automatically displays the last available frame captured from the visual system accompanied by a text overlay to inform the ATCO of the status. This ensures the ATCO is immediately made aware of the disruption so appropriate action can be taken, such as following emergency protocols or accessing a backup system, while providing the last available visual information to refer to until the issue is addressed.
Custom Naming of Video Signal Inputs NEW
Air traffic management systems are comprised of numerous independent systems, each of which are displayed on the controller's screen via dedicated video signals. The monitor allows end users to assign a custom name to each of the monitor's video signal inputs. This is useful if an input signal is disrupted due to a system or other error, so IT personnel can determine immediately which system was affected.

Optimal Use
Spacious Screen
The Raptor RP5525 features a spacious 54.6-inch screen for viewing a high volume of information easily in one place. This provides the option for ANSPs to consolidate multiple applications on one screen for a seamless viewing experience.

Highly Detailed 4K x 2K Display
4K x 2K (3840 x 2160) resolution allows more information to be displayed on screen at a high level of detail for clear viewing.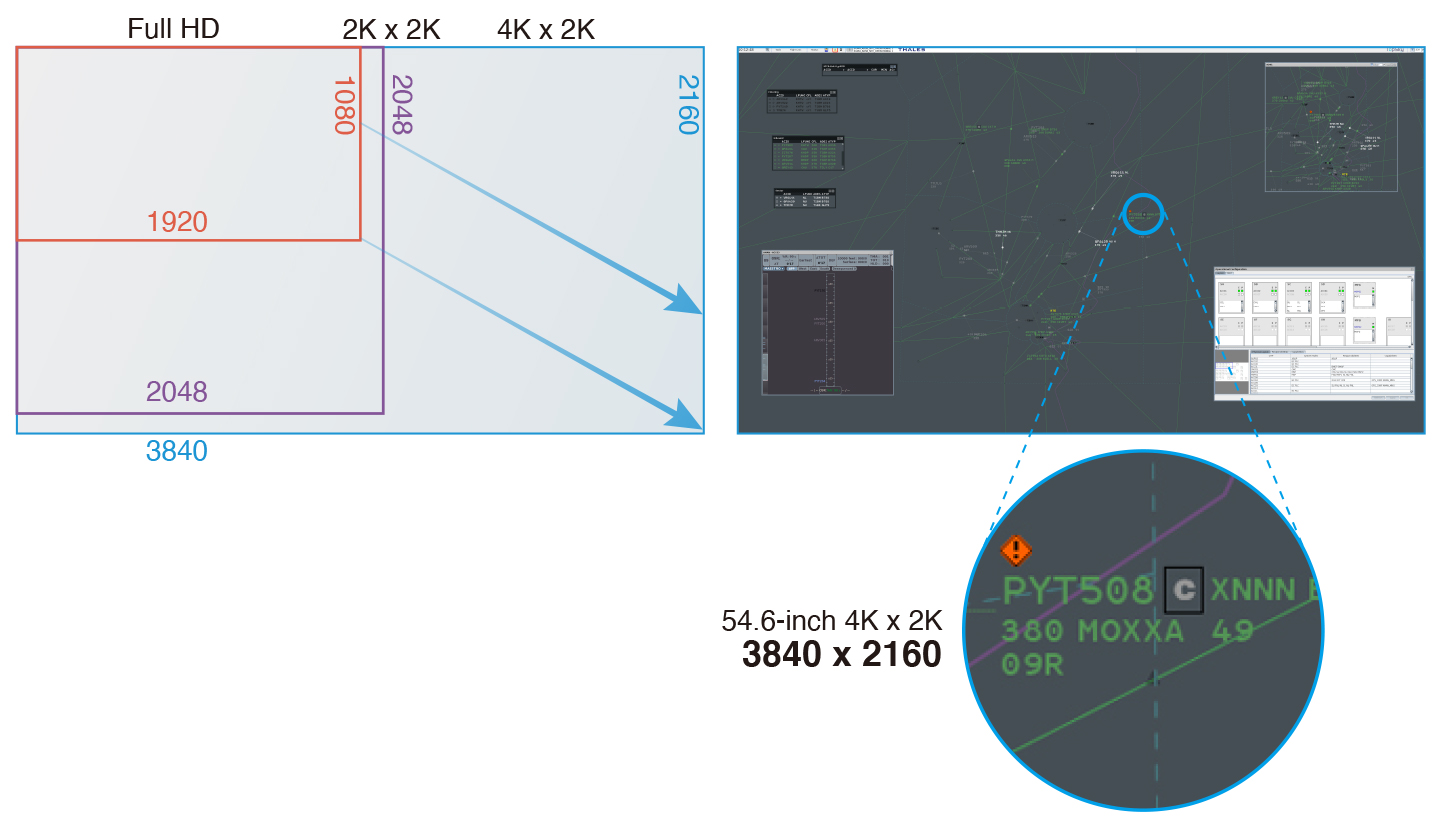 Image Clarity with Wide Brightness Range
The monitor can be adjusted within a wide brightness range of 20 - 700 cd/m2 to optimize viewing in the installation environment as well as suit the needs of the ATCOs. The high contrast of 4000:1 ensures even subtle hue differences are displayed with clarity.

Brightness Stabilization
The monitor is equipped with EIZO's fully automated brightness stabilization function. This uses a backlight sensor to stabilize the brightness level of the monitor, compensating for fluctuations caused by variations in ambient temperature and the passage of time. This ensures the ATCO views the screen under consistent display conditions throughout the long life of the monitor.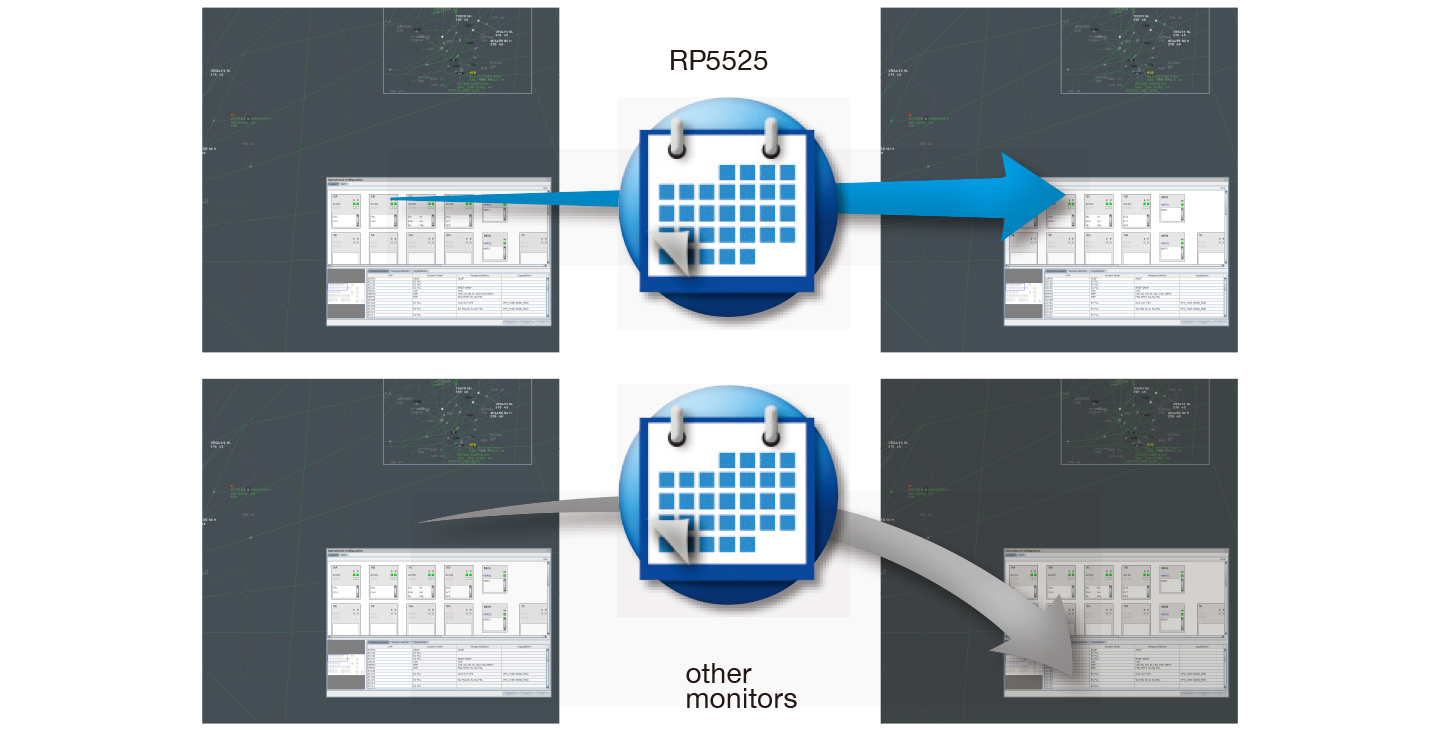 Seamless Installation
Slim Bezels
The unobtrusive bezels measure just xx mm on the sides so ATCOs can focus more on the screen.

Streamlined Installation
| | |
| --- | --- |
| The monitor has 400 x 200 mm hole spacing for installation to VESA-supported fixtures, such as those in open or closed ATC consoles. The monitor has 400 x 200 mm hole spacing for installation to VESA-supported fixtures, such as those in open or closed ATC consoles. The carrying handles on the back of the monitor provide support for handling the monitor during initial installation or system maintenance. | |
Complete Connection
The monitor is equipped with two dual link DVI and two DisplayPort inputs. It also comes equipped with a range of communication interfaces for connection to a network, remote monitor management, or maintenance purposes – RS-232C, USB, and TCP/IP. All connectors are positioned facing downward to avoid cable bending and ensure connections are reliably secured to the monitor.
Durability and Reliability
24/7 Operation
| | |
| --- | --- |
| The Raptor RP5525 is developed specifically for meeting the stringent requirements of mission-critical ATC environments with 24/7 operation. | |
Fanless Operation
| | |
| --- | --- |
| The monitor provides noiseless, fanless operation while maintaining low heat output for long-term reliability. | |
Industrial-Grade Housing
| | |
| --- | --- |
| The monitor's housing uses full sheet steel industrial-grade housing for durability in demanding environments. | |
Built-In Power Supply
| | |
| --- | --- |
| The Raptor RP5525 has its power supply built in. This provides a cleaner and more manageable installation area without a bulky power brick. A secondary built-in power supply is available as an option. | |
Panel
Type
VA
Backlight
Edge-type LED
Size
54.6" (138.8 cm)
Native Resolution
3840 x 2160 (16:9 aspect ratio)
Viewable Image Size (H x V)
1209.6 x 680.4 mm
Pixel Pitch (H x V)
0.315 x 0.315 mm
Display Colors
1.07 billion
Viewing Angles (H / V, typical)
178° / 178°
Brightness (typical)
20 - 700 cd/m2
Contrast Ratio (typical)
4000:1
Response Time (typical)
8.5 ms (white-to-black)
Video Signals
Input Terminals
DisplayPort x 2, DVI (dual link) x 2
Digital Scanning Frequency (H / V)
DisplayPort: 522.61 MHz / 60 Hz
DVI: 260 MHz (2 x 130 MHz dual link) / 60 Hz
USB
Upstream
USB 2.0: Type-B
Downstream
USB 2.0: Type-A x 2
Power
Power Input
AC 100 - 240 V, 50 - 60 Hz
Typical Power Consumption
84 W (Brightness: 150 cd/m2)

Maximum Power Consumption
188 W
Features & Functions
Brightness Stabilization
Yes
Communication Interface
RS-232C, USB, RJ-45
Communication Protocol
SNMP, HTTP
Physical Specifications
Dimensions (Landscape, W x H x D)
1267 x 748 x 96.7 mm
Net Weight
29.3 kg
Hole Spacing (VESA Standard)
400 x 200 mm
Environmental Requirements
Operating Temperature
0 - 40°C
Operating Humidity (R.H., non condensing)
10 - 90%
Storage Temperature
-20 - 60°C
Degree of Protection
IP20
Certifications & Standards (Please contact EIZO for the latest information.)
CE, UL, FCC, REACH, RoHS, WEEE
Warranty
2 Years (24-hour use)
Touch Panel Pointers and Styluses
An active stylus for Raptor touch panel monitors.

External OSD Keyboard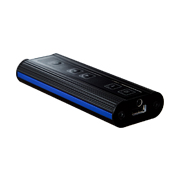 - Remote OSD access of Raptor legacy monitors
- 7-pin circular connector

Monitor Cleaning Kit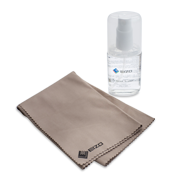 - Keep your screen free from dust and fingerprints
- Includes pump spray and cloth