Network Color Management Software
FlexScan
ColorEdge
FORIS
RadiForce
DuraVision
Raptor
Features
Specifications
Documents Compatibility
Unify Color, Centralize QC Management
ColorNavigator Network provides centralized quality control (QC) of ColorEdge monitors with ColorNavigator 7 or NX installed. This QC solution is ideal for post production studios, printing houses, and other enterprises looking to centralize the quality control of their monitors and reduce maintenance costs.
With ColorNavigator Network, an administrator can set the color modes, schedule self-calibration, activate key lock to prevent unintended changes to color settings (CG series), register or adjust asset management settings, and import/export monitor settings.
Quality Control until Now
For many studios in printing, design, and post production, maintaining a properly adjusted monitor has been a time-consuming process. Each monitor needed to be aged, calibrated, and validated manually.
Unify Management of Multiple Monitors
With ColorNavigator 7 / NX installed on individual workstations, an administrator can use ColorNavigator Network to automate color management of monitors.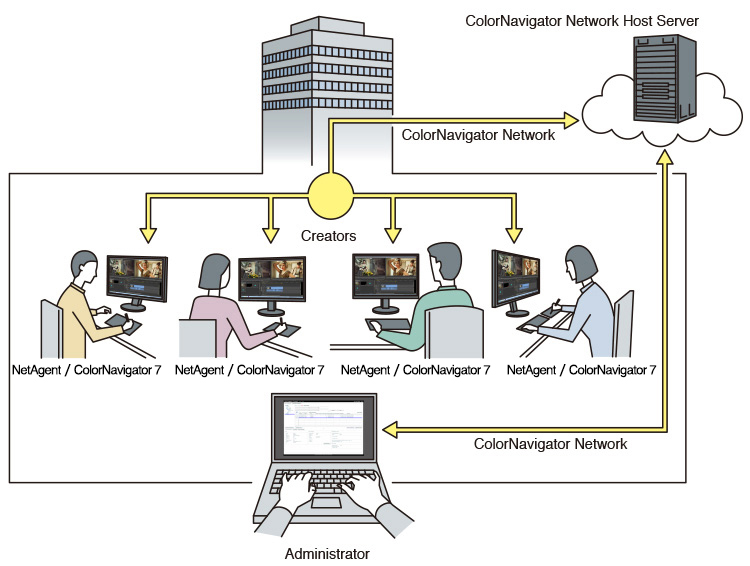 Unify Color in Multiple Locations
Unify color display on all ColorEdge monitors within your organization, even those that are located in other cities or countries.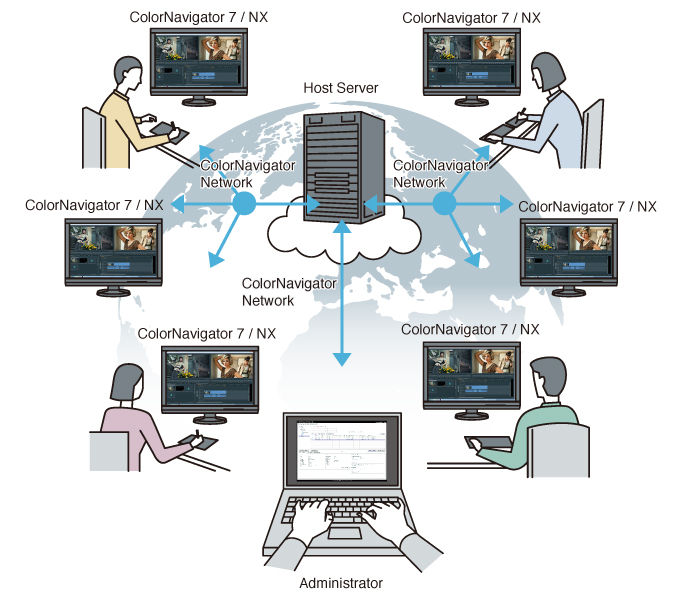 Worry-Free Web Hosting
ColorNavigator Network is hosted on a secure cloud server to free you from the initial investment and running costs of providing your own server.
Available functions vary by model. See the details in the list.
ColorNavigator Network Available Functions by Model (PDF)
Significantly Reduce Your Workload
Using ColorNavigator Network with ColorNavigator 7 / NX software and ColorEdge monitors in even a modest installation of 25 monitors will save hundreds or of hours in annual maintenance costs.
Remote Access Made Easy
The host server for ColorNavigator Network is accessible from any location with Internet connectivity.
Availability
Contact the EIZO group company or sales distributor in your country for information about availability of ColorNavigator Network.

Manuals
| Document | Language | Size | Download |
| --- | --- | --- | --- |
| ColorNavigator Network Ver.1.1.3 User's manual | English | 2.14 MB | |
Compatibility