Monitor Basics in Plain English
Modern Video Inputs
If you're considering purchasing a monitor, it's always important to check which video inputs are supported. Let's take a look at some of the current mainstream and soon-to-be mainstream interfaces that are available today.
This is a translation from Japanese of an article published by ITmedia PC USER on October 26, 2016. Copyright 2016 ITmedia Inc. All Rights Reserved.
Current Video Input Options
Since the introduction of Full HD, the old analog signal video outputs of PCs (D-Sub and DVI-A/I), have mostly been replaced with digital signal interfaces. In AV (audio visual) equipment, even though many analog standards can support high resolutions, because content protection is not sufficient, high resolution output through analog is limited. Although the reasons are different, high definition and digitization are becoming more prominent. with various AV equipment, TV broadcasting and PCs.
However at the same time, Full HD and 4K resolutions, like those usually found exclusively on PCs, are now being achieved on smartphones and tablets smaller than 6 inches. More than displaying video sources to their full potential on large display sizes, there seems to be more of a need to mount external connection interfaces onto these small devices.
Because of this, not only PCs but a wide range of devices from AV equipment to smartphones are now constrained by digital signals. As a result of content protection depending on the origin and required functions, there are now numerous digital interface standards available. Furthermore, there are lots of standards that require additions such as overclocking and extra functions in order to upgrade the transmission system.
Therefore, it is important to consider what interfaces are supported by a monitor before buying. So we have summarized the common video interfaces here.
The 27-inch FlexScan EV2780 monitor is equipped with a USB Type-C terminal. USB Type-C can transmit video, sound, and USB signals in a single cable. Furthermore it can also supply power. USB Type-C is compatible with MacBook and other recent mobile PCs.
HDMI (Type A) - The Current Mainstream Video Interface
The current mainstream video interface is HDMI (High-Definition Multimedia Interface). Although there are several variations to the connector shape, the standard is Type A, a D-terminal which is a 14 mm wide, 19-pin rectangular connector with two cut-out corners.
Its winning point is that it is a comparatively compact shape which not only transmits video signals but also audio signals. But nowadays most digital video input interfaces have similar functions.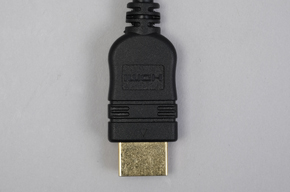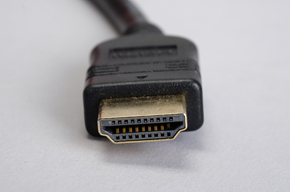 HDMI (Type A) is the video interface used in most equipment nowadays.
In accordance with terrestrial digital broadcasting's mandatory broadcasts and content protection technology, HDMI has become highly prevalent in the industry to the extent that most TV external input terminals are HDMI (Type A). Thanks to that most TVs can now easily be connected to and display PCs. This widespread availability of the 'HDMI compatible display' is perhaps one of the reasons why stick PCs (small PCs that connect to a monitor via HDMI) were able to become so popular.
HDMI adopts TMDS (Transition-minimized differential signaling) which has a total of four communication channel protocols; one channel for each RGB color (red, green and blue) and one channel for clock synchronization. The original 'version 1.0' is compatible with transmissions speeds of up to 4.95 Gbps and up to 1080 pixels. The following 'version 1.2' is aimed toward PCs and the next 'version 1.3' is compatible up to Full HD. The next 'version 1.4' brings compatibility with 4K (30 Hz / 24 Hz), and then finally 'version 2.0' was achieved which brings with it improved transmission speeds and functions to allow for compatibility with 4K (60 Hz) and also support for 21:9 aspect ratios found on smartphones. Cables are also divided by hardware requirements; 'standard' cables for 1080i, 'high speed' cables for 1080p, and 'premium' cables for up to 4K (60Hz).
From initial development until 'version 2.0a,' standard transmission rates have improved by 360%. But even though the latest version 'version 2.0 / 2.0a' can support up to 4096 x 2160 pixels (60 Hz), responding to the needs of 8K seems to be proving difficult.
USB Type-C – The Latest Standard Transmitting Video, Audio and USB Through One Cable.
USB Type-C is a new connector type established by USB 3.1, with a size equivalent to a micro USB, but has an identical top and bottom meaning that it is reversible. Although easy to confuse, USB Type-C is the newest connector and cable shape for USB 3.1, but this does not necessarily mean that it is equipped with the USB 3.1 standard. USB 3.1 is also available in the traditional rectangular USB shape – standard A, and a mini shape – standard B. USB Type-C is compatible with all USB 3.1 plugs – if you have an adapter – but not all USB Type-C plugs are equipped with USB 3.1.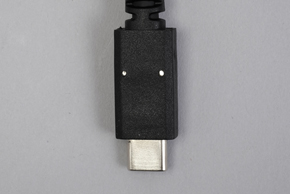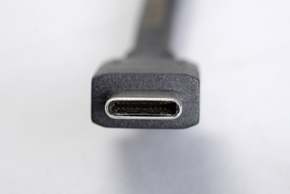 USB Type-C connector. There is no 'right side up' – as the connector is reversible.
USB Type-C has a mode called 'Alt Mode' (alternative mode). This means that using the USB Type-C band frequency, a different signal standard can be handled. The following are the current standards that have been formulated.
1. DisplayPort Alt Mode
Announced in 2014, it first supported up to DisplayPort 1.3 but now supports up to DisplayPort 1.4
2. MHL Alt Mode
Also announced in 2014, it originally supported MHL 3.0, but also supports Super MHL which was announced in 2015L.
3. Thunderbolt
The Thunderbolt 3 standard now adopts a USB Type-C shaped connector. The conventional Thunderbolt adopted the Mini DisplayPort shape (discussed later), but the Thunderbolt 3 has adopted USB Type-C. In its own right a USB Type-C connector may or may not be able to output video, however if the PC claims 'Thunderbolt 3 support' then that PC will be able to output video via its USB Type-C port.
4. HDMI Alt Mode
Announced in September 2016, it corresponds to HDMI 1.4b. However it is unclear if future displays will adopt HDMI Alt Mode.
USB Type-C is the latest interface, with both video input and output it is quickly becoming widespread. From the sheer versatility that USB Type-C provides, we may just find that all future devices will adopt USB Type-C. So when purchasing a new display – in consideration for the future – the presence or absence of USB Type-C is a huge factor.
Display Port – The potential to support 8K
DisplayPort has been developed as the successor to the DVI standard, and was announced as 'version 1.0' by VESA in 2006. It is a 16 mm wide, 20-pin rectangular connector with a corner taken out.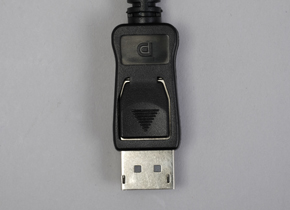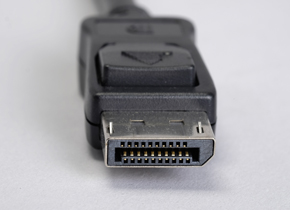 DisplayPort connector
The original 'version 1.0' established in 2006 was capable of transmission speeds of 2.7 Gbps by four lanes (giving an effective maximum speed of 8.64 Gbps). Then in 2009 'version 1.2' was released which was capable of 5.4 Gbps by four lanes (effectively 17.28 Gbps). And finally in 2014 'version 1.3' was announced which is capable of 8.1 Gbps by 4 lanes (effectively 25.92 Gbps). This means that DisplayPort can support up to 8K/30 Hz uncompressed, but depending on the display stream compression, can correspond to 8K UHD (7680 x 4320 pixels)/60 Hz.
DisplayPort 'version 1.2' and onwards has a single or a dual mode. The dual mode corresponds to DVI/HDMI signal output, so a video signal can be sent to a DVI/HDMI input device using an inexpensive conversion cable/adapter that doesn't process the signal. On the other hand, single mode is not compliant with DVI/HDMI signal output, so an active converter is required to convert the signal to DVI/HDMI.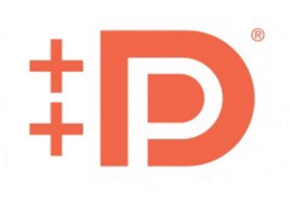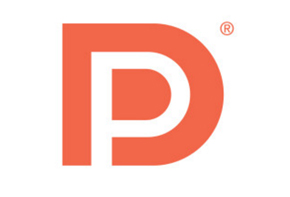 Left: Dual mode DisplayPort. Two plus symbols are placed to the left of the logo. Right: Single mode Display Port. No plus symbols are placed next to the logo.
With DisplayPort 'version 1.2' or later you can connect monitors in a multi-monitor set-up using a daisy chain sequence which connects the PC to the first monitor, the first monitor to the second monitor, the second monitor to the third and so forth, meaning that only one DisplayPort is needed to connect a computer to several monitors.
Mini DisplayPort
The Mini DisplayPort is the compressed version of DisplayPort – with a width of only 7.55 mm. Due to the small size of the Mini DisplayPort terminal, many products can equip up to 6 terminals on a normal graphics card, or 4 in a low profile graphics card.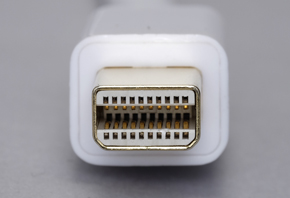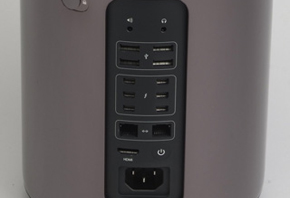 Left: Mini DisplayPort Connector. Right: Mac Pro mounting interface with 6 Mini DisplayPort terminals.
Mini DisplayPort was conceived and developed by Apple, but in 2015 Apple decided to co-develop Thunderbolt with Intel, which is now being used instead of Mini DisplayPort. Thunderbolt (and Thunderbolt 2) can be used with Mini DisplayPort connectors; with the cable not only displaying DisplayPort, but also PCI Express signals. However in Thunderbolt 3, the connector has been changed to a USB Type-C shaped connector which may be confusing.
DVI – The Digital Output Pioneer
Let's briefly touch on DVI – the pioneer of PC digital video output.
DVI is an analog video output terminal for PC that appeared after D-Sub. It has an 8 x 3 matrix of digital signal pins, with a single unique analog signal pin to the side.
DVI has 3 types of connectors – DVI-D (Digital) for digital-only signal, DVI-A (Analog) for analog-only signals, and DVI-I (Integrated) for digital and analog dual-use signals. Although the connectors are mutual, the connecting pins may vary. The only analog signal pin on DVI-D is the flat pin on the side, but on DVI-A/I all the analog signals pins are connected.
Similar to HDMI, the TMDS transmission system is used. Because of this, DVI-D/I can be converted to HDMI through a passive conversion cable/adapter. TMDS link (transmission line) can support one or two signals – called single and dual link respectively.
The DVI transmission clock supports up to 165 MHz; the Single Link supports up to WUXGA (1920 x 1200 pixels) at 60 Hz but Dual Link can raise the clock to support 2560 x 1600 pixels per 60 Hz, and even up to 4K 3840 x 2400 pixels at 33 Hz. In Single Link, the two middle rows of digital signal pins are not connected so that it has two 3 x 3 matrixes of pins. Dual Link on the other hand has a full 8 x 3 matrix of pins connected.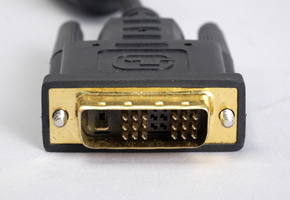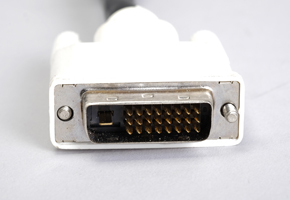 18-pin DVI-D (Single Link) (Left) and 24 pin DVI-D (Dual Link) (Right).
These days, many monitors have replaced DVI inputs with HDMI input terminals, but even if a PC's graphics card is DVI-D/I output, it's possible to use an adapter to connect a DVI-D/I output with HDMI input.
Interfaces for Mobile Devices
Mini HDMI – a small HDMI for video and digital cameras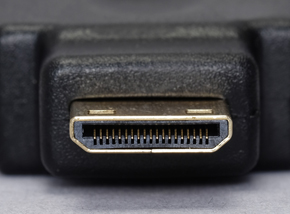 Mini HDMI (HDMI Type C) connector
The mini HDMI interface or 'HDMI Type C' is only 10 mm in width. Mini HDMI is defined as HDMI version 1.3, and it is widely adopted in video cameras. HDMI Type A and Type C only differ by the connector shape, therefore a passive-type converter cable or adapter, without signal conversion, can be used to connect mini HDMI to HDMI Type A. Generally, most mini HDMI cables have a mini HDMI end and a HDMI Type A end.
Micro HDMI – a small HDMI for compact cameras and tablets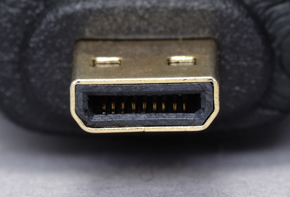 Micro HDMI (HDMI Type D) connector.
Micro HDMI (HDMI Type D) is even smaller than mini HDMI at only 6 mm wide. It is defined as HDMI version 1.4. Similarly to mini HDMI, a passive conversion cable or adapter can be used to connect with HDMI Type A. However most micro HDMI cables are sold with a micro HDMI end, and a HDMI Type A end.
MHL – the micro USB commonly used in smartphones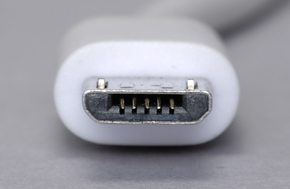 MHL connector which is the same as micro USB.
From 2013, the number of smartphones using micro HDMI decreased, to be replaced with MHL (Mobile High-definition Link). This standard, developed by Silicon Image, is diverted through micro USB connectors.
MHL transmits video and audio signals at 2.25 Gbps on a single pair of lines, and because the control signal is transmitted by only one other line, power can be supplied through the remaining 2 lines of the 5-pin micro USB connector. For example, if an on-demand video is played back on a smartphone and output to a TV, you needn't worry about the battery despite the large amount of energy being consumed, as the device is being supplied with power.
A micro USB connector can charge/communicate data like the original USB, but it can also be used for external video/audio output, and its small size is a big advantage on the restricted mounting areas of smartphones. The latest version 3.0 supports up to 4K/30 fps. And in 2015 the latest standard, the superMHL, was announced. Incidentally, the standard competing with MHL, called SlimPort, also uses the microUSB port, but there are few examples except for the Nexus smartphone series.
USB Type-C which takes in everything
Previously PCs exclusively had high resolution video, but that barrier is slowly being lost as devices that can output full HD and 4K are becoming more common. At the same time, smartphones and tablets require space saving video interfaces due to the small mounting surface on the devices, and so up until now, depending on the needs, there have been various different policies and directions of specifications taken for different markets.
This is where USB Type-C has made a breakthrough. With high speed communication of 10 Gbps*; up to 100 W of power supply capacity; no need for 'full size,' 'mini,' or 'micro' miniaturization as it's small from the very beginning; a reversible connector which eliminates previous disadvantages of connectors; Type-C seems to have everything one needs, with the potential to beat all other video interfaces.
*Only USB 3.1 Gen 2. Gen 1 is 5 Gbps.
Moreover, as long as Alt Mode is equipped for general purpose use like mentioned above, all modern digital interfaces can be converted to USB Type-C using an adapter or conversion cable. However, although a non-USB Type-C connector can be connected to USB Type-C via an adapter or converter cable, when purchasing a monitor it's no doubt noteworthy to consider a monitor that has USB Type-C.
EIZO's FlexScan EV2780, released on November 18, 2016, is EIZO's latest FlexScan model. It is a 27-inch monitor equipped with USB Type-C (DisplayPort Alt Mode compatible) and it has a thin housing with built-in power supply which can supply up to 30 W of power through USB Type-C.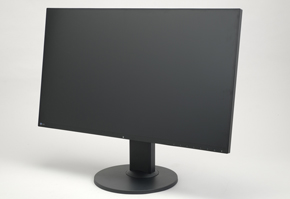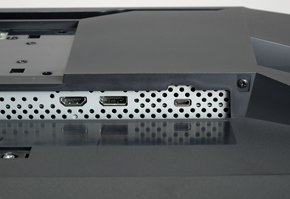 The FlexScan EV2780 has HDMI, DisplayPort, and USB Type-C inputs.
With the fully flat and frameless design of the previously popular FlexScan EV2750, it comes with the highly-promising USB Type-C interface as well as the current HDMI and DisplayPort connectors. If you are a user of an advanced mobile PC that has USB Type-C – like the MacBook – with a single cable you can display your PC on this large monitor whilst charging your device. So of course, as an investment in the rapidly popularizing USB Type-C, the FlexScan EV2780 is a highly potential contender.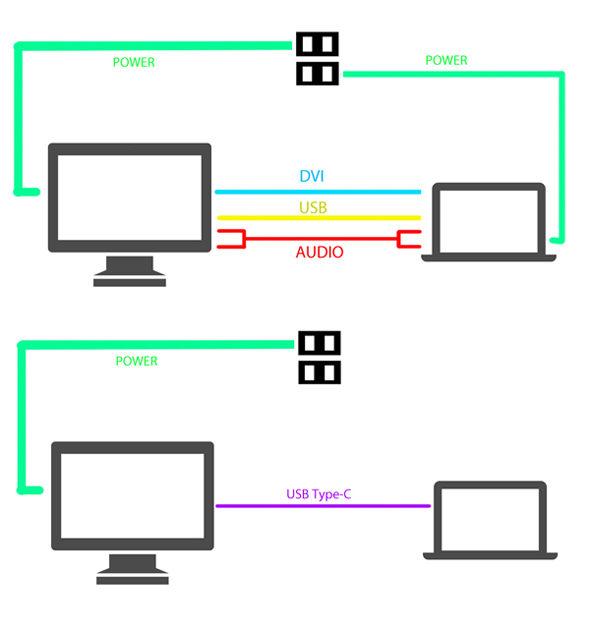 Cabling becomes much less complicated with USB Type-C.