Monitor Basics in Plain English
Could your poor work efficiency be because of your notebook PC? Improve efficiency by working with a USB Type-C compatible Monitor.
Before buying a monitor for the office, be sure to check that it has USB Type-C – the new standard for electronic devices.
This is a translation from Japanese of an article published by ITmedia PC USER on September 28, 2017. Copyright 2017 ITmedia Inc. All Rights Reserved.
A Modern Workplace Requires a Modern Monitor
Along with the installation of office networks and infrastructure maintenance, the office working style has undergone significant changes in recent years. The previous style of working at a designated desk is slowly being replaced by a more open, communal working system. These days, employees can tackle their work using smartphones, tablets and laptops without being bound to a designated time or place. Offices have begun boosting multi-workplace environments and mobile work by reducing the dependence on VPN connections, migrating to cloud-based servers, and allowing workers to BYOD (Bring Your Own Device) and CYOD (Choose Your Own Device).
Devices have evolved remarkably in order to keep up with these changes in work style. Their improved CPU performance, increased internal storage and speed, and longer battery lives overcome restrictions on portability.
With the advent of USB Type-C, mobile PCs have become thinner and lighter, making them more mobile and versatile. USB Type-C has an incredibly small, reversible connector and is able to reach transfer speeds of 10 Gbps (with USB 3.1 Gen 2) and supply up to 100 W of power. Having already been integrated into the latest MacBook, there is no doubt that USB Type-C will become the standard interface for future devices due to its ability to transfer data, audio/video, and power all at once.
Due to these advances in technology, notebook PCs are no longer inferior to desktop PCs in terms of processing power, as was the case in the past. With the movement toward the mobile and multi-workspace working style, notebook PCs are proving to be the preferred choice over bulky desktop PCs.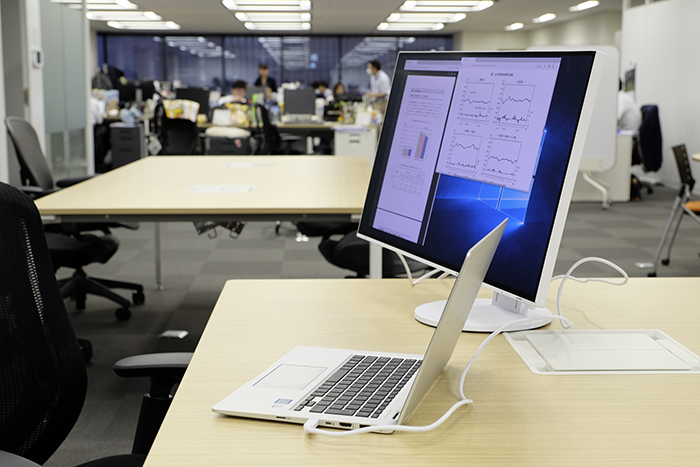 Combining a highly mobile notebook PC with a high-quality monitor improves work efficiency.
Although the stress accompanied with the mobile working style has been greatly improved, the limited size of notebook PC screens remains an unchangeable factor. In order for notebook PCs to be portable, it is only natural that they be small, and as such, the screen must also be smaller. This means that notebooks can only display a limited amount of information at a time.
Of course notebook manufacturers try to adjust to this by using high-density LCD panels. Although it allows the screen to display more information due to the larger amount of pixels, in reality there is a limit to how dense pixels can be made before human eyes can no longer see objects and text on the screen. High resolution monitors with high pixel densities are also commonly seen on the market nowadays, however the difference is that due to their larger physical size, human eyes can see the information displayed much easier than smaller notebook displays.
Because of this, there are many people who choose to connect their notebook PC to a monitor in the office. While using the notebook for simple tasks on the go, the office monitor can be used for complicated and data-rich work that requires a larger workspace.
A perfect example of a monitor to suit this flexible work environment is the FlexScan EV2785, which is positioned as a higher level monitor to the FlexScan EV2780 that was released in the winter of 2016. Although the panel size is the same as the 27-inch EV2780, the EV2785 has an increased resolution of 4K, with improved USB Type-C power delivery and various other new features.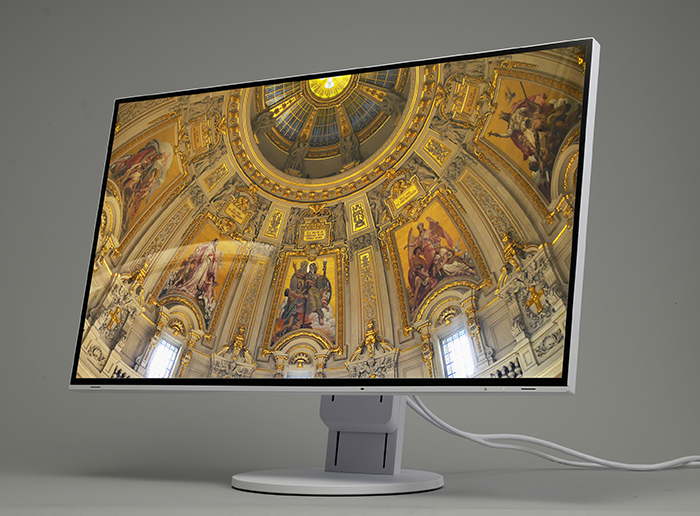 FlexScan EV2785
Why the FlexScan EV2785 is Perfect for the Office: Reason One
The most significant feature of the EV2785 is the resolution: 4K ultra-high definition (3840 x 2160 pixels). The pixel density is 163 ppi (pixels per inch), which gives the monitor the high definition impression you're probably used to from looking at smartphone screens. In Windows 10, the standard 150% DPI scaling is applied with the EV2785. Even after scaling, the work area is equivalent to WQHD (2560 x 1440 pixels). This makes the EV2785 just the right size – being able to achieve both high definition and a large working space.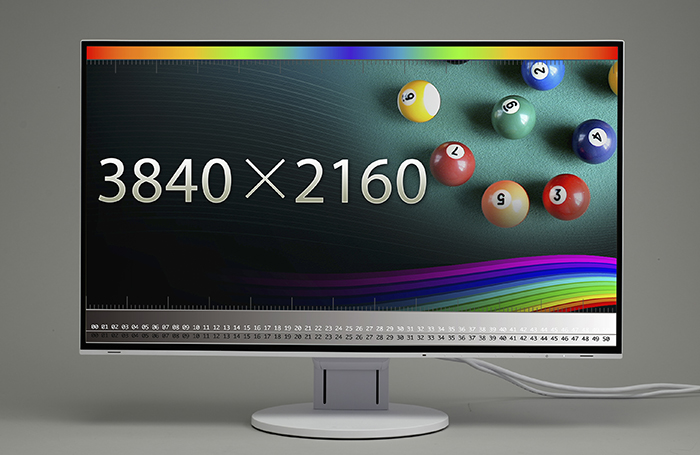 3840 x 2160 pixels worth of information can neatly be displayed over the 27-inch screen.
Current mainstream Windows notebook PCs are typically 13 to 16-inches, with resolutions from WXGA (1366 x 768) to full HD (1920 x 1080). This makes the EV2785 three to four times bigger, with a resolution four to eight times larger. In the case of full HD notebook PCs, pixel density is typically 141 ppi (15.6-inch screen) to 165 ppi (13.3 inch screen), making the 163 ppi of the EV2785 almost the same in definition and DPI scaling magnification. When used in a multi-monitor setting, there is little incongruity in appearance, and the working area can be enlarged.
This enlarged workspace is perfect for office applications, allowing productivity to soar. Sitting in the office, the large screen of the EV2785 is ideal for information gathering and analysis, and performing tasks simultaneously side by side on the one screen, while the notebook provides the ability to work during meetings and while travelling to and from the office.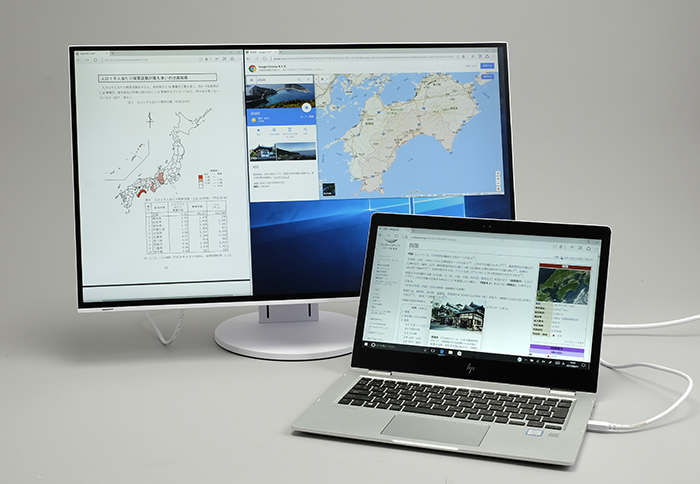 Use a notebook and a monitor for the perfect multi-display environment. While working on a notebook, the FlexScan EV2785 can be used for information collection and analysis.
Using a notebook PC with a multi-monitor environment is also a way to improve productivity. By using a notebook PC to write documents, the FlexScan EV2785 can be used to display data and information for perusing.
Why the FlexScan EV2785 is Perfect for the Office: Reason Two
The large screen and high resolution of the FlexScan EV2785 are not the only reasons why it is perfect for mobile PC users. As mentioned earlier, the EV2785 is compatible with USB Type-C. This means that audio and video signals, USB data and a notebook power supply can all be transmitted via a single cable where previously several cables were required.
For example, when returning to your seat after seeing a client, if you connect your notebook to the EV2785 via USB Type-C, not only will the EV2785 display as a secondary screen from your notebook, but your notebook can also be charged without needing to take the bulky AC adapter from your bag. In addition to this, if a full size keyboard and mouse is connected to the USB hub built into the side of the monitor, these can be utilized almost immediately after plugging the notebook into the monitor via USB Type-C. Not only is this convenient, but it also helps to minimize cables, leading to a more organized desk. This leaves more space for working with printed documents, leading to improved efficiency and higher quality work.
The earlier USB Type-C compatible model –the FlexScan EV2780 – had a max power supply of 30W via USB Type-C, however the EV2785 has doubled that to 60W. This allows you to charge not only mobile notebooks, but also high-end notebooks with a single USB Type-C cable. For simple work such as internet browsing and document composition, 60W of power is suitable for the average notebook PC. However for work that requires CPU power, such as database processing and uploading photos, a Core i5 class notebook may be required. With a Core i5 class notebook, the FlexScan EV2785 can provide more than enough power.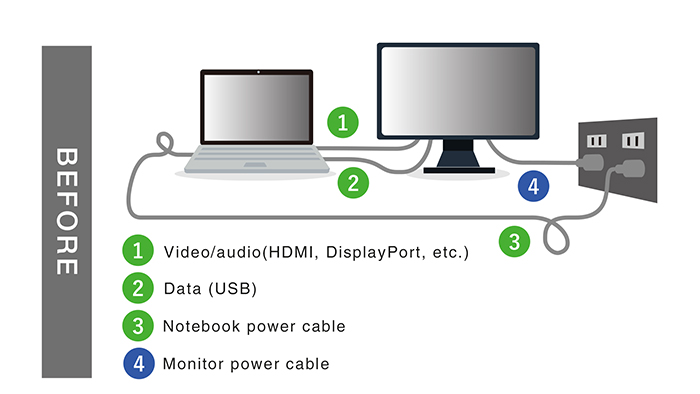 Typically it is necessary to connect an external monitor with various different cables.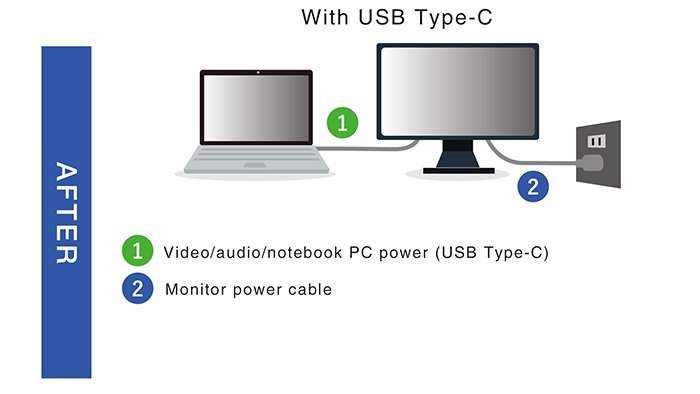 With USB Type-C, an external monitor can be connected with a single cable. And because power can be supplied to a connected device, only the monitor's power cable is required – eliminating the need for the notebook AC adapter.
Lately, many companies have introduced free address and BYOD to the office. The universal nature of USB Type-C means that even with various devices being used, workers can feel reassured as long as they're USB Type-C compatible. As mentioned in our article Modern Video Inputs USB Type-C is soon to be the mainstream interface for most devices. Even if your current notebook isn't equipped with USB Type-C, you can still connect it to the EV2785 with DisplayPort and HDMI which is compatible with 4K/60p. Ultimately by thinking ahead, it's wise to choose a USB Type-C compatible monitor like the EV2785 for office use.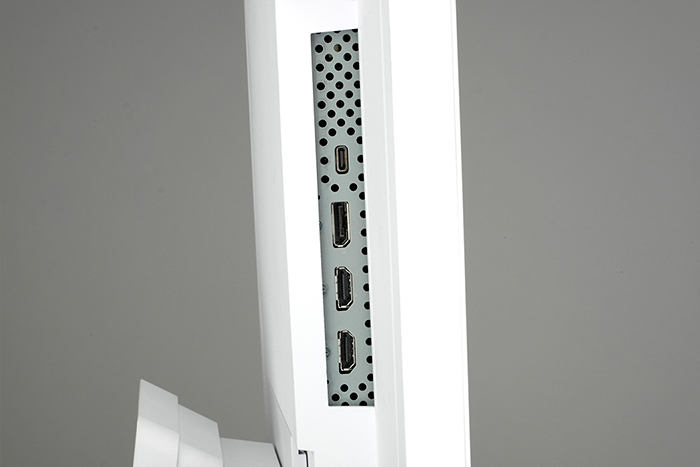 In addition to USB Type-C, the EV2785 also has two HDMI inputs and one DisplayPort input.
Why the FlexScan EV2785 is Perfect for the Office: Reason Three
When it comes to offices, space is almost always a concern. However since the EV2785 is only 611.4 mm wide, it can comfortably fit on even narrow desks, making it perfect for use with a notebook, or a multi-monitor environment. The secret to this is EIZO's 'frameless design' which incorporates extremely thin bezels onto the monitor.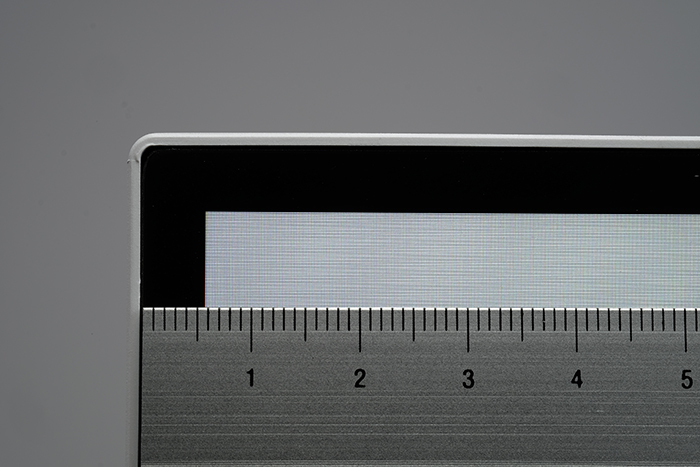 The black border is approximately 6 mm wide. With the 1 mm bezels, this makes a total of about 7 mm.
The bezels of the EV2785 are only 1 mm on the top and sides, with a total non-viewable area of only 7 mm. Even though the bottom bezel contains the OSD operational buttons, it is only 13 mm wide. Furthermore, since the bezels do not protrude out from the screen, the front of the monitor is completely flat, making it perfect for multi-monitor use.
The body of the monitor is also attractive. The monitor comes in either a black or white cabinet with matching cables so that you can choose the monitor according to the aesthetics of the office. Furthermore the rear of the stand also serves as a cable holder, meaning that cables can be neatly stored out of sight. Not only does this keep your desk neat, but it also adds style.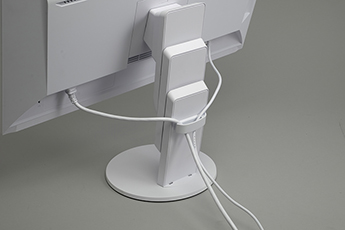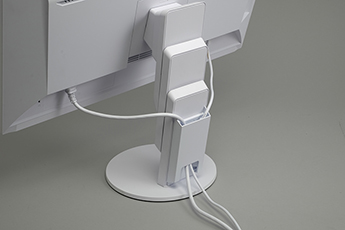 Connect with just two cables: USB Type-C and the monitor's power cable. Use the cable cover or cable holder on the rear of the stand to neatly store cables out of sight.
The stand of the EV2785 is highly flexible. The stand, which is separated into 3 sliding parts, has a base approximately 15 mm smaller than the EV2780. It has a height adjustment range of 177.9 mm, and can tilt from -5 to 35 degrees. It has 344 degrees swivel and can be rotated vertically to sit in the portrait position. Since these adjustments are all stepless, you can easily move the monitor to a position that suits you. Furthermore, by turning the monitor vertically you can easily read long webpages and documents, and adjust the screen to sit comfortably beside you notebook PC.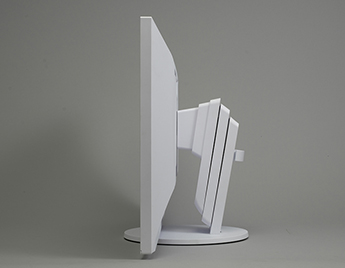 The EV2785 adopts a new stand design that first became popular in the EV2456. In addition to being able to flexibly adjust the screen, the size of the stand base has also been reduced.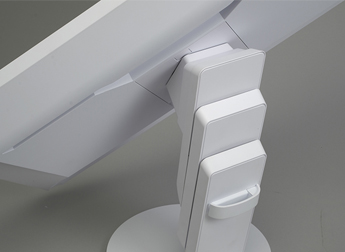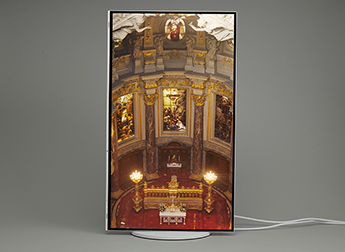 The EV2785 can easily be swivelled to portrait mode, making it perfect as a reference monitor. Furthermore the monitor has an optional bracket stand (PCSK-03) for holding a thin client or mini PC on the back of the stand.
In small offices, it's often the case that the working area is in the same room as the reception area, meaning that customers can see the office. In order to offer a good impression, it's important for the office to be presented neatly and stylishly.
Why the FlexScan EV2785 is Perfect for the Office: Reason Four
Up until now we've recommended the EV2785 to those who have exclusively used notebook PCs in order to improve work efficiency. However outside of this, the EV2785 is excellent as a regular monitor as well. In modern times, due the large amount of work done using VDT (visual display terminals), the work environment and health of the staff are big challenges.
The FlexScan EV2785 confronts these issues with health-conscious features such as 'EyeCare Dimming' which eliminates perceivable flicker caused from the LED backlight, and 'Paper Mode' which reduces blue light.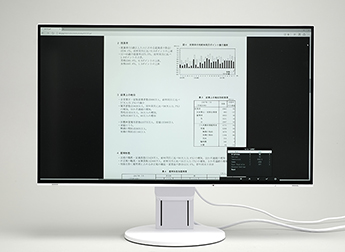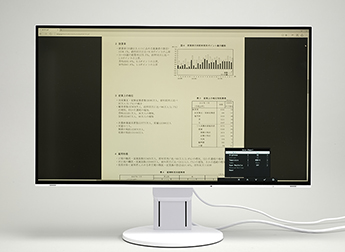 'Paper Mode' relieves eye fatigue by reducing blue light which is considered harmful to the body. (Left: sRGB Mode; right: Paper Mode)
Another health-conscious feature is Auto EcoView, which has been newly updated with an algorithm that automatically adjusts the brightness of the screen to match the ambient lighting more naturally than previous versions. This further reduces eye fatigue. Thanks to these features, you can use the monitor for a long time without tiring.
In order to help improve the working environment, the EV2785 is compatible with the free 'Screen InStyle' software. It contains functions such as Auto Color Mode which changes the color mode of the screen according to the application being used, and the Circadian Dimming Function, which automatically reduces blue light over time. Additionally it is possible to synchronize all monitor settings – such as power on/off and brightness – in a multi-monitor environment. Furthermore an additional software – Screen InStyle Server – allows administrators to remotely control various setting such as power on/off, and manage multiple monitors connected to the network, all from the one location.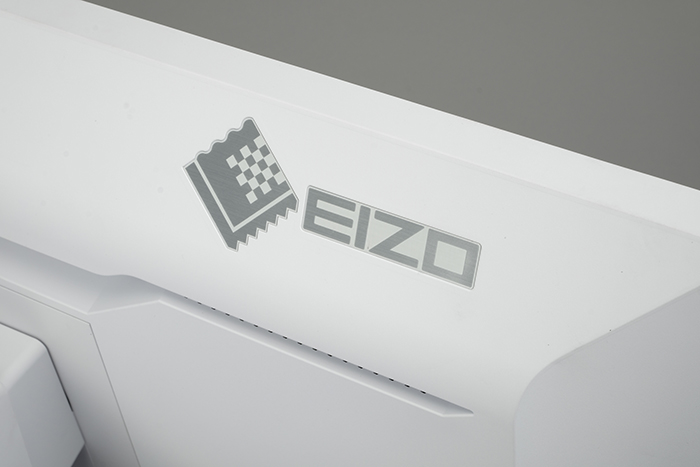 The EV2785 connects with modern notebooks such as the HP EliteBook x360 1030 G2 and the MacBook.
As shown above, the EV2785 is perfect for use with modern notebooks. If you currently use a notebook for work, and you're not happy with how small and difficult it is to use, why not considering introducing the FlexScan EV2785 into your office? Even if you don't currently use a USB Type-C compatible device, considering the long-term use of the monitor, it is undeniable that a USB Type-C compatible monitor is a worthy investment. Especially considering that the EV2785 is covered by a 5-year warranty, you can rest assured that the monitor will be useful for many years in the next USB Type-C era.