Features
Specifications
Documents Compatibility
Accessories
Awards & Reviews

Fusion Design
Ultra-Thin Bezels On All Four Sides
The monitor features 1 mm ultra-slim bezels on the sides and top with black borders of 4.3 mm. Electrostatic switches are placed on the front of the monitor for easy adjustment of monitor settings. Furthermore the bezels are flush with the screen surface, making a completely flat screen perfect for multi-monitor configurations.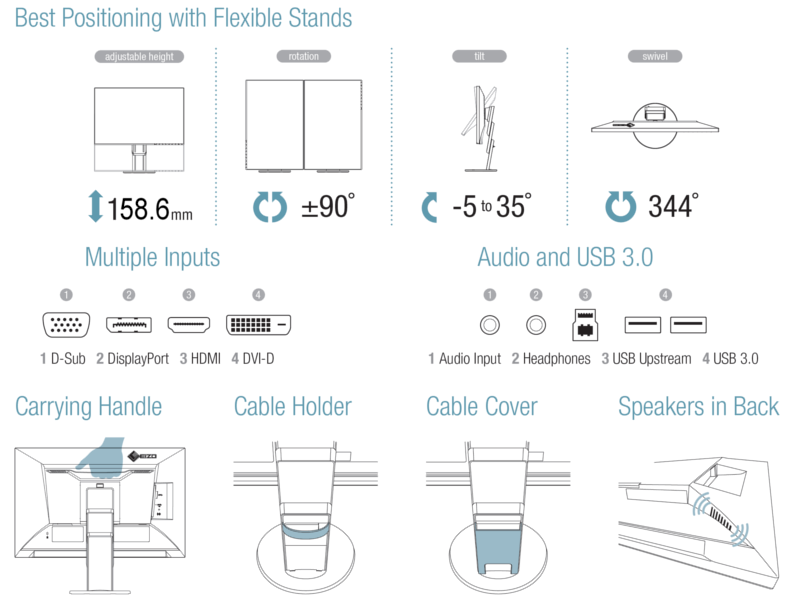 Say Goodbye to Tired Eyes
Flicker-Free Viewing
Due to the way brightness is controlled on LED backlights, a small number of people perceive flicker on their screen which causes eye fatigue. The FlexScan EV series utilizes a hybrid solution to regulate brightness and make flicker unperceivable without any drawbacks like compromising color stability – even on low brightness settings.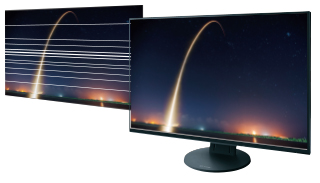 Auto Brightness Control
To prevent eye fatigue, a brightness sensor called Auto EcoView detects the changes in the ambient brightness that occurs throughout the day and automatically adjusts the screen to the ideal brightness level.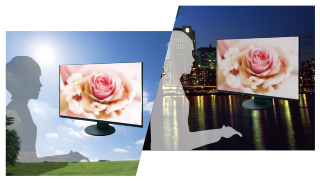 Smooth Color Gradations
The monitor produces smooth image display by taking an 8-bit signal (256 tones per RGB) and selecting the optimum color values from a 10-bit look-up table (1,021 tones). Also, each monitor is adjusted on the factory line to minimize variability between units.
Significantly Reduce Blue Light
In the visible light spectrum, blue light has wave lengths adjacent to ultraviolet light. Compared to the factory preset setting of 6,500 K of typical LCD monitors, Paper Mode is closer to the spectral distribution with long reddish wavelengths so it reduces the amount of blue light, a cause of eye fatigue, and helps prevent eyestrain when reading documents.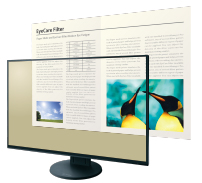 1% - 100% Brightness Range
In a dimly-lit work environment, a monitor with low brightness settings is more comfortable to use. With its LED backlight, the monitor is adjustable to approximately 1 cd/m² which is less than 1% of the maximum.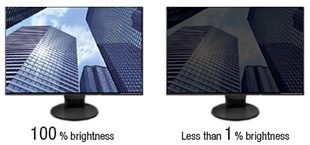 Clear View from All Angles
The monitor uses an LED-backlit IPS (in-plane switching) LCD panel with 178° viewing angle that minimizes color shift and contrast changes when viewing the screen at an angle. This means that two people sitting at the one computer can easily see the screen – and it also makes the EV2456 perfect for multi-monitor configurations.
White on White
The aesthetically-pleasing design of the monitor extends even to the cables. White cables come bundled with the white cabinet; and black cables with the black cabinet version of the FlexScan EV2456. Additionally the optional Cable Cover removes the potential eyesore of tangled cables by holding them neatly behind the stand.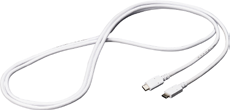 Maximum Energy Savings
The FlexScan EV2456 typically consumes just 11 watts, earning it the EU Energy Label maximum rating of A++. What's more, all models are certified for visual ergonomics and energy savings.
Our Contribution to SDGs
| | |
| --- | --- |
| As part of its corporate social responsibility (CSR) activities, EIZO is contributing towards the United Nations' Sustainable Development Goals (SDGs). | |
■Environmentally Friendly

This contribution extends to our FlexScan Monitors; environmentally friendly monitors made with ever improving energy efficiency, using recycled plastics and sustainably procured materials, boxed in recyclable packaging, and with a responsible after-service recycling system.

■Higher Work Efficiency

Furthermore, with innovate technology and software, we aim to improve the working conditions and work efficiency of users. Through these features and more, FlexScan monitors are upholding the values of the UN's Sustainable Development Goals, toward a brighter and more sustainable tomorrow.
Read about our recent activities in our annual CSR report.
Work Better
New Stand Design
The EV2456 comes with our latest stand design. It boasts greater height adjustment, and due to the tilted design has a base 43 mm smaller than previous stands giving you more space at your work station. Furthermore, the stand comes attached in the box – simply pull it out, plug it in – no stand setup required.
Greater Height Adjustment

More Space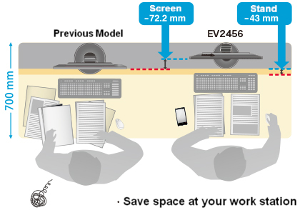 EIZO Monitor Configurator for Administrators
EIZO Monitor Configurator lets system administrators control the settings of all FlexScan EV monitors with a USB connection. The settings of one monitor can be saved as an xml file and applied to other monitors via USB or office network.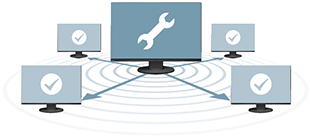 Screen InStyleTM
EIZO's Screen InStyle is a newly developed software that allows you to easily manage multiple monitor settings such as power, color, brightness and gamma. But what makes Screen InStyle truly unique is that it allows you to manage multiple connected monitors from the one place – meaning that settings placed on one monitor will automatically be set to all connected monitors.
Learn more about the various Screen InStyle features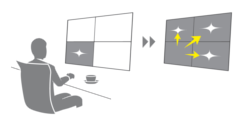 LED Backlights - Less Power, Longer Life
Compared to CCFL backlights, LED backlights last longer and consume less power. They are also mercury-free for minimal environmental impact.
Zero Bright Pixels
EIZO guarantees this product will be free from bright sub-pixels for six months from purchase date.
See our Bright Pixel Policy for details.
5-Year Warranty
A manufacturer's 5-year warranty covers all components including the LCD panel to ensure a long service life. This warranty is 2-years or 67% longer than the standard 3-year warranty of most monitor brands for significantly lower running costs.

Free Up Your Workspace with a Stand Bracket
The PCSK-03 is a VESA-compliant bracket for easily mounting a client terminal such as a thin client or mini PC to the back of the monitor's stand. The space the client terminal previously occupied is now freed up so you can make better use of your desktop. Even with the client terminal attached you can adjust the monitor's stand freely.

Model Variations
EV2456-BK: with FlexStand, black
EV2456-WT: with FlexStand, white
EV2456-FBK: without stand, black
EV2456-FWT: without stand, white

Note: FlexStand is removable
Panel
Type
IPS
Backlight
LED
Size
24.1" / 61.1 cm
Native Resolution
1920 x 1200 (16:10 aspect ratio)
Viewable Image Size (H x V)
518.4 x 324 mm
Pixel Pitch
0.270 x 0.270 mm
Pixel Density
94 ppi
Display Colors
16.77 million
Viewing Angles (H / V, typical)
178° / 178°
Brightness (typical)
350 cd/m2
Contrast Ratio (typical)
1000:1
Response Time (typical)
5 ms (gray-to-gray)
Color Gamut (typical)
sRGB
Video Signals
Input Terminals
DisplayPort (HDCP 1.3), HDMI (HDCP 1.4), DVI-D (HDCP 1.4), D-Sub mini 15 pin
Digital Scanning Frequency (H / V)
DisplayPort: 31 - 76 kHz / 59 - 61 Hz
HDMI: 15 - 76 kHz / 49 - 51 Hz, 59 - 61 Hz
DVI: 31 - 76 kHz / 59 - 61 Hz
Analog Scanning Frequency (H / V)
31 - 81 kHz / 55 - 76 Hz
Sync Formats
Separate
USB
Upstream
USB 3.1 Gen 1: Type-B
Downstream
USB 3.1 Gen 1: Type-A x 2
Audio
Speakers
1.0 W + 1.0 W
Input Terminals
Stereo mini jack, DisplayPort, HDMI
Output Terminals
Headphones (Stereo mini jack)
Power
Power Requirements
AC 100 - 240 V, 50 / 60 Hz
Typical Power Consumption
11 W
Maximum Power Consumption
44 W
Power Save Mode
0.5 W or less
Features & Functions
Preset Modes
User1, User2, sRGB, Paper, Movie, DICOM
Auto EcoView
Yes
OSD Languages
English, French, German, Italian, Japanese, Simplified and Traditional Chinese, Spanish, Swedish
Physical Specifications
Dimensions (Landscape, W x H x D)
531 x 351.4 - 510.1 x 190 mm
Dimensions (Without Stand, W x H x D)
531 x 341.9 x 45.5 mm
Net Weight
5.7 kg
Net Weight (Without Stand)
3.7 kg
Height Adjustment Range
158.6 mm
Tilt
35° Up, 5° Down
Swivel
344°
Pivot
90°(both clockwise and counter clockwise)
Hole Spacing (VESA Standard)
100 x 100 mm
Environmental Requirements
Operating Temperature
5 - 35 °C
Operating Humidity (R.H., non condensing)
20 - 80 %
Certifications & Standards (Please contact EIZO for the latest information.)
TCO Certified Generation 8, EPEAT 2018 (US), TUV/Ergonomics, TUV/Low blue light content, TUV/Flicker Free, TUV/GS, RCM, CE, CB, cTUVus, FCC-B, CAN ICES-3 (B), TUV/S, VCCI-B, PSE, EPA Energy Star, RoHS, WEEE, China RoHS, CCC, China Energy Label Grade2, EAC
Dedicated Software
Monitor Control Utility Screen InStyle
Supported
Supplied Accessories (May vary by country. Please contact EIZO for details.)
Signal Cables
DisplayPort (2 m)
Others
AC power cord (2 m), USB Type-A - USB Type-B cable (2 m), cable cover (EV2456), VESA mounting screw x 4, CD-ROM (PDF user's manual), setup guide
Warranty
Five Years
Zero bright sub-pixels for six months from date of purchase.
Dimension Drawing
PDF
2 With current LCD / OLED technology, a panel may contain a limited number of missing or flickering pixels.
5 If the monitor is left on continuously over a long period of time, dark smudges or burn-in may appear. To maximize the life of the monitor, we recommend the monitor be turned off periodically.
Brochures
Manuals
Document
Language
Size
Download
EV2456 User's manual
English
2.71 MB
EV2456 Setup guide
English
Chinese-Simplified
Chinese-Traditional
Dutch
French
Russian
3.68 MB
Screen InStyle Server User's manual
English
354 KB
Screen InStyle Installation Guide
English
238 KB
EV2456 User's manual
Chinese-Simplified
3.22 MB
EV2456 User's manual
Chinese-Traditional
3.26 MB
EV2456 User's manual
Czech
924 KB
EV2456 User's manual
French
2.75 MB
EV2456 User's manual
German
2.72 MB
EV2456 User's manual
Russian
2.74 MB
Compatibility
| Date | Subject |
| --- | --- |
| November 26, 2020 | Microsoft Windows 10 October 2020 Update (20H2) and EIZO Software Compatibility |
| November 5, 2020 | Microsoft Windows 10 May 2020 Update (2004) and EIZO Software Compatibility |
| November 5, 2020 | Microsoft Windows 10 November 2019 Update (1909) and EIZO Software Compatibility |
| October 27, 2020 | Mac mini 2018 Model and FlexScan, ColorEdge Compatibility |
| May 26, 2020 | Microsoft Windows 10 May 2019 Update (1903) and EIZO Software Compatibility |
| July 30, 2019 | Abnormal Display Issue on Microsoft Windows 10 May 2019 Update (1903) |
| July 24, 2019 | Booting Issue with Mac mini 2018 (macOS Mojave 10.14.5) when Connecting Monitor via USB Type-C or DisplayPort |
| June 4, 2019 | Microsoft Windows 10 October 2018 Update (1809) Compatibility with EIZO Software |
| February 21, 2019 | Microsoft Windows 10 April 2018 Update (1803) Compatibility with EIZO Software |
| November 29, 2018 | HP Z2 Mini G4 Workstation and FlexScan, ColorEdge Compatibility |
| October 30, 2018 | Compatibility to connect RadiForce monitors with DisplayPort daisy chain |
| October 9, 2018 | HP Z2 SFF G4, Z2 Tower G4 and FlexScan, ColorEdge Compatibility |
| October 1, 2018 | Problem with blurring and strange screen colors when connecting external monitor to MacBook Pro (2018) |
| September 20, 2018 | Panasonic Toughbook CF-SV7 and FlexScan Compatibility |
| August 23, 2018 | Lenovo ThinkStation P320 Tiny and FlexScan Compatibility |
| July 5, 2018 | Microsoft Surface Laptop Compatibility with EIZO Monitors |
| July 5, 2018 | Microsoft Surface Pro Compatibility with EIZO Monitors |
| June 13, 2018 | Microsoft Surface Pro 4 Compatibility with EIZO Monitors |
| June 13, 2018 | HP EliteBook x360 1030 G2 and FlexScan Compatibility |
| June 13, 2018 | HP Z240SFF, Z240, Z4, Z6, and Z8 Compatibility |
| June 13, 2018 | GIGABYTE GB-BKi7HT-7500 Compatibility with EIZO Monitors |
| June 13, 2018 | Mac 2017 Models Compatibility with EIZO Monitors |
| May 24, 2018 | HP EliteDesk 800 G3 DM and FlexScan Compatibility |
| April 13, 2017 | HP Z2 Mini G3 Workstation and RadiForce Compatibility |
| April 11, 2017 | Microsoft Windows 10 Creators Update (1703) Compatibility with EIZO Software |
Mounting Bracket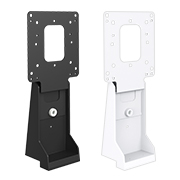 Dedicated bracket for attaching a client to the back of the FlexScan Frameless models

Mounting Bracket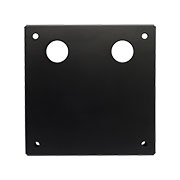 VESA mounting plate for attaching an IP decoding box to certain FlexScan monitors using VOP-01

For FlexScan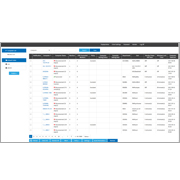 - Asset management and monitor control software
- Automatic acquisition of monitor and PC device information
- Collective adjustment of monitor color and power settings
For FlexScan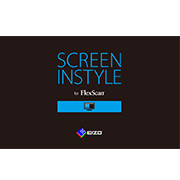 - Monitor control utility
- Multi-monitor power management
- Blue light reduction

Cable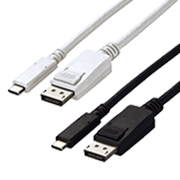 2m USB Type‐C to DisplayPort Cable

Monitor Cleaning Kit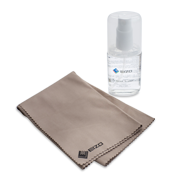 - Keep your screen free from dust and fingerprints
- Includes pump spray and cloth
Tech Testers (Netherlands)

October 23, 2017

Recommended Award

"A top model when you want (or need) a 16:10 - 1920 x 1200 monitor specifically."
Dutch
Google Translate
PRAD.de (Germany)

April 3, 2017

Very Good

"As expected, the EIZO EV2456 feels particularly at home in the office. Here it can shine with a chic, representative design and comprehensive ergonomic functions."
Hardware Info (UK / Netherlands)

March 31, 2017

Ultimate Product Award

"Eizo has basically delivered the perfect office monitor with the EV2456: it doesn't take up a lot of space, it's exceptionally ergonomic, easy to configure by both system admins and users, it comes with all the connectivity you'd want and what's more, it has extra vertical space for productivity applications."